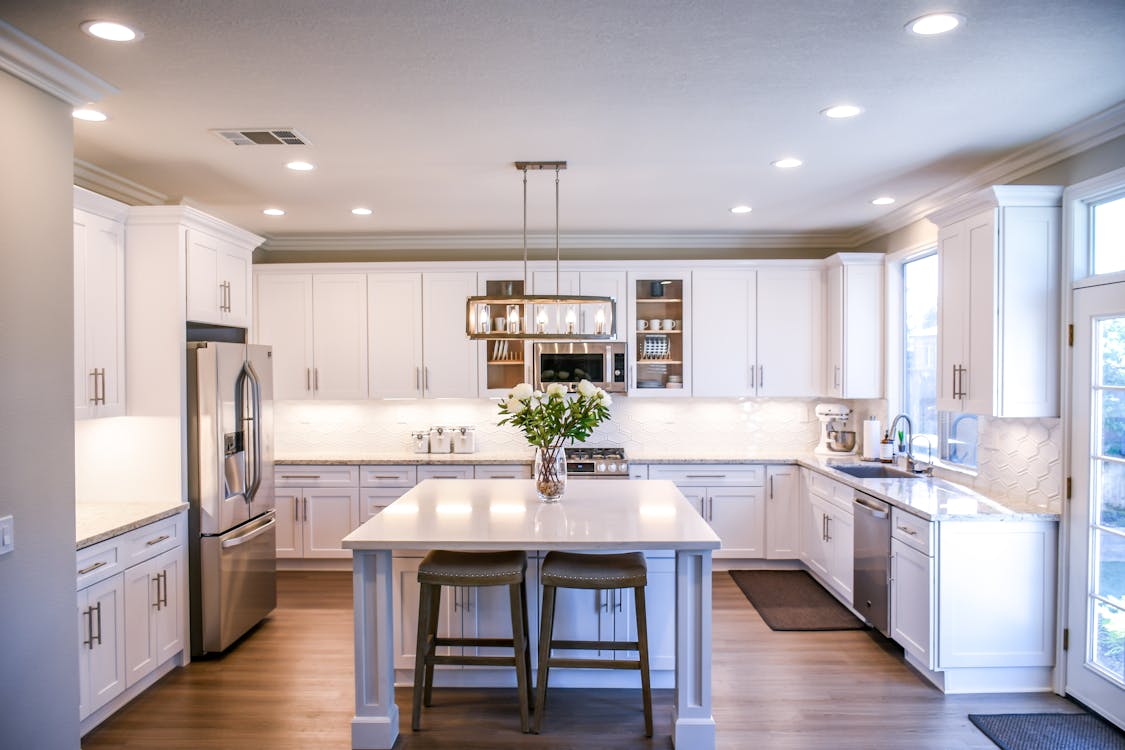 DIY Ideas to Spruce Up Your Home
DIY does not have to be something you put off for years because you half heartedly keep meaning to get around to it. It can be something that brings you a sense of accomplishment, plus DIY projects can also make the things you do every day inside your house more convenient. For example, you may have built a spice shelf so that you don't have to keep rooting through your cupboards for spices every time you need them. Lastly and probably the most obvious result of DIY projects is the visual effect you can have on your house.
Build a Simple Spice Shelf
You can install a small floating shelf in your kitchen to put your spice collection on for easy access.
Install a Peel and Stick Backsplash
Adding a backsplash to your kitchen can not only make your kitchen look more vibrant but it can also protect the walls from grease and water. There are many different backsplash colours, patterns and styles that can totally transform the appearance of your kitchen. Peel and stick backsplashes are also relatively easy to apply. Getting a backsplash can make your kitchen look like it has had a hospitality fit out.
Create Your Own Compost Bin
If you have a vegetable garden you may want to consider building a compost bin, this can be constructed with scrap wood that you find on your travels. Just make sure that the wood is not treated, as you don't want any unnecessary chemicals in your fertiliser. Creating your own fertiliser out of your food scraps can be good for the environment and save you money.
Make Your Own Front Door Wealth
Halloween and Christmas will be here before you know it, so why not have a go at making your own wealth to go on your front door to make your house look more seasonal? You can make them out of paper or card and include ferns and wildflowers you find outside.
Make an Entry Way Organiser
You can do this by attaching a few hooks to a piece of scrap wood and hanging it up near the main doors, this idea gives you a lot of room to be creative and truly make it your own by adding your favourite colours and patterns onto your entryway organiser.
Hang Your Favourite Pictures Up with String
This gives you an opportunity to showcase lots of different photos rather than just getting several bigger picture frames. You can also change the photos on your picture string much easier keeping them relevant as the pictures make great conversation starters for when you have guests.
Create a Wall of Basket Storage
Hanging willow baskets on your wall not only gives your home a rustic look but the baskets themselves can also be useful for putting small, frequently used items in such as TV remotes or your favourite snacks. If you wanted to you could also paint the willow baskets to make the colours match more the colour layout already in your room.
Try Two Tone Paint Treatment on Your Walls
Two tone paint treatment involves painting two different solid colours next to each other, this can create a very visually striking set of colours on your walls. For this one, you can have a go yourself or for a more professional look you could opt for a fit out company to do it for you if there are several walls you want to paint.  
Conclusion
DIY can be both fun and rewarding and can impress guests that come around to your house. There are almost endless possibilities for you to try to really make your house your home!