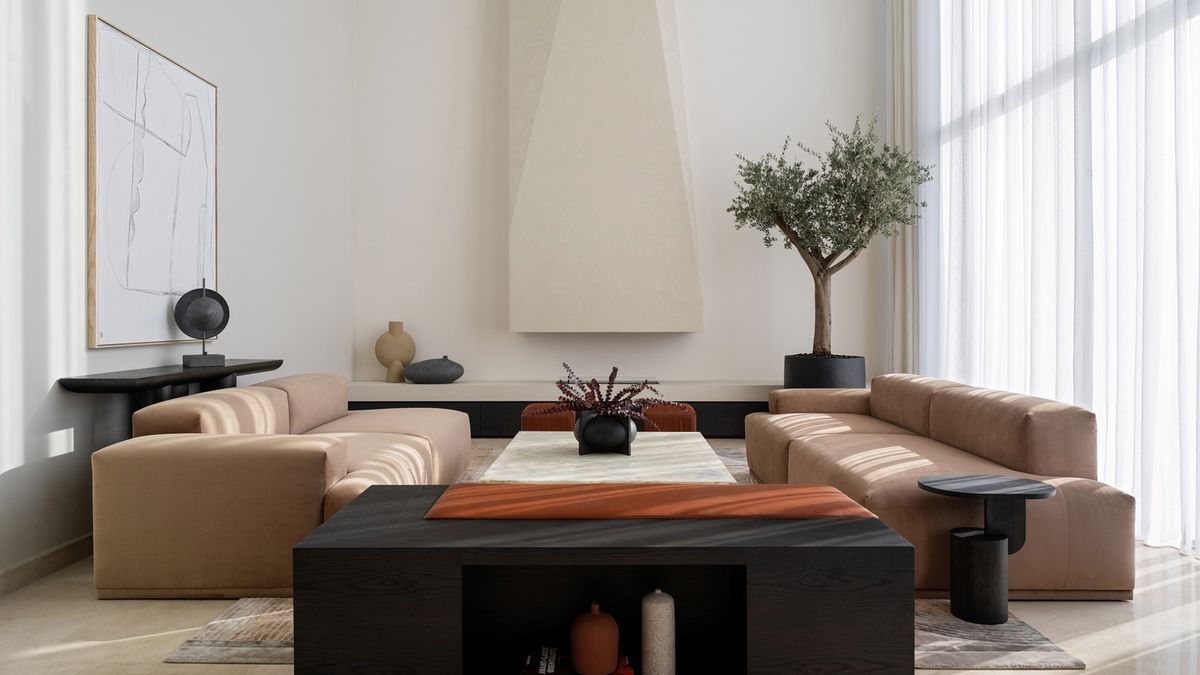 How designers create decor that feels "naturally cooling"
Managing your home during a heatwave is no easy feat, but the way you design your rooms can impact the temperature more than you might think. The secret to a cool, light and airy interior lies in the color, furniture and texture. 
'Look at how the Mediterranean homes do it and take inspiration from the bright white houses of Santorini,' says James Greenwood, color expert at paint brand, Graham & Brown. 'These houses are designed to keep heat out and replicating this style will create that holiday feeling in your home.' To help learn how to cool down a room and heatproof your home, follow these simple tips from the design experts.
1. Use color from the cool side of the color wheel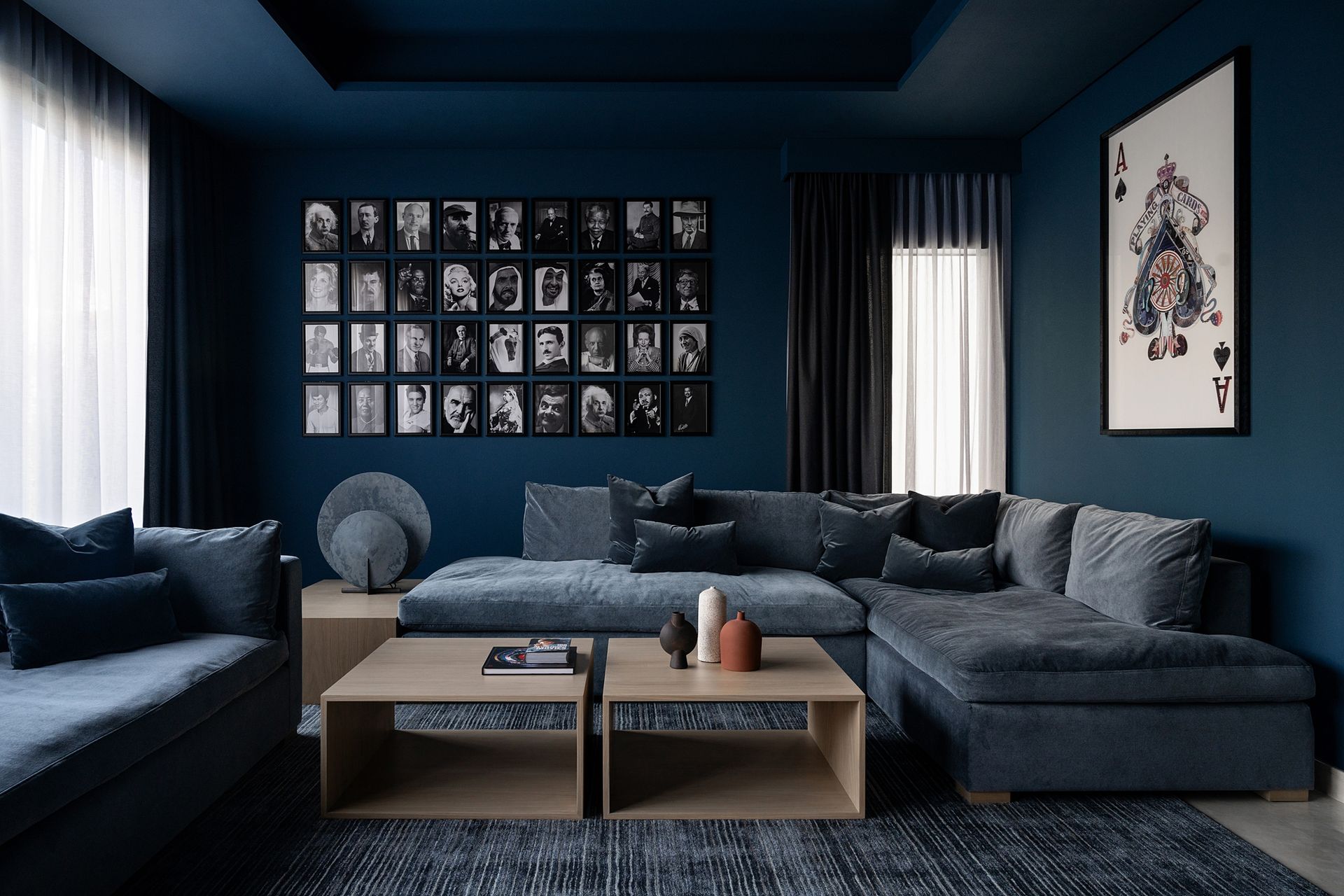 Firstly, think about the color palette of the room and look to the color wheel for inspiration. Select a cool color scheme with icier tones of blue, green and greys that have a lower temperature and the space will feel cooler. 
'Red is a hot color which has connotations of fire,' says color expert, Suzy Chiazzari, a holistic interior designer and color therapist. 'When we are surrounded by red in a room it raises our heartbeat, flooding our muscles and tissues with blood so we feel hot and more active.'
'Yellow is the color most people associate with the sun, and it can therefore psychologically make us feel warm, as well as mentally stimulated and alert,' says Suzy.
There is science behind the color you select too, and it's not just psychological. 'The lighter the color, the more it will reflect UV rays and keep your home cool in the hot summer months, so whites, beiges and pastel colors will work best for this,' adds James Greenwood, color expert at Graham & Brown.
Most rooms feel hotter if they face the sun, but some colors do hold the heat longer, adds Suzy. 'Light colors reflect the heat away from us while darker colors tend to hold the heat more. The more saturated the paint, the more likely it is to feel warmer longer. '
Black absorbs all the color wavelengths in light, holding the heat of the sun without reflecting any color back to us. 'Therefore, a living room painted black makes us feel warm and cocooned,' says Suzy.
If a lick of paint isn't an option for you, try and incorporate these tones in your decor and material and your home will be all the cooler for it.
2. Enlist the help of cooling hard materials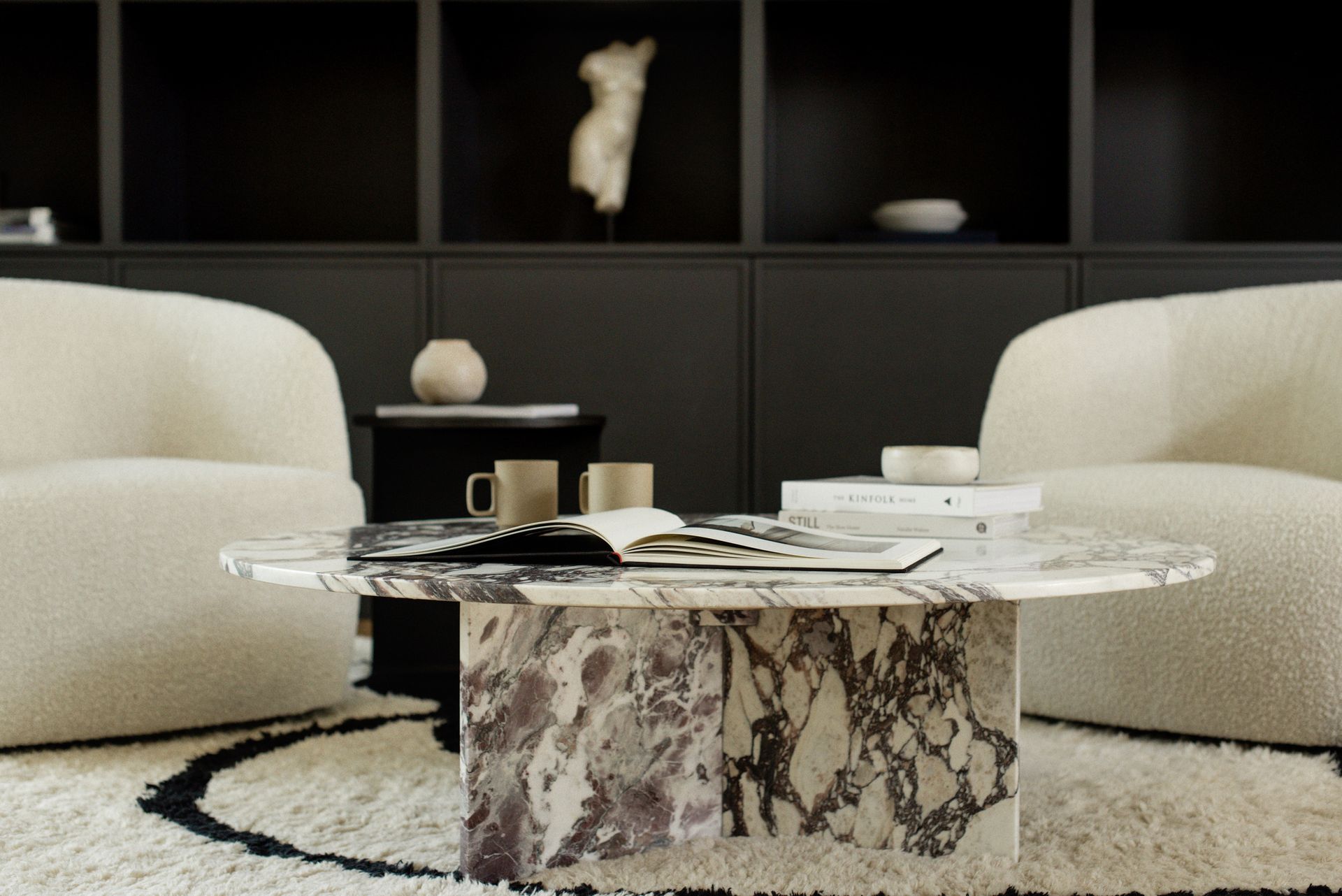 Think about the hard materials you have in your home and their properties. From coffee tables to decorative objects to kitchen countertop surfaces, these materials can help a space feel colder in temperature. 
Remember that white is the color that reflects the heat, so bring in white material to help your home feel cooler. Think marble decor, like this heavily veined white coffee table from a design by Emily Lauren Interiors, or white quartzite countertops, and other stones that have a cooling feel. 
Hardwoods that are light in color will help cool down your space too. Think white oak, maple, or hickory, and avoid any hardwoods that are dark in coloring as this can bring a warmer feel – maple or mahogany. 
 'Also consider your finish,' says Nadia Watts of Nadia Watts Interior Design. 'A shiny surface will reflect both visible light and infrared. Matte surfaces like brick and stone will absorb a lot more heat than shiny or polished surfaces.' 
3. Play with light textures and soft materials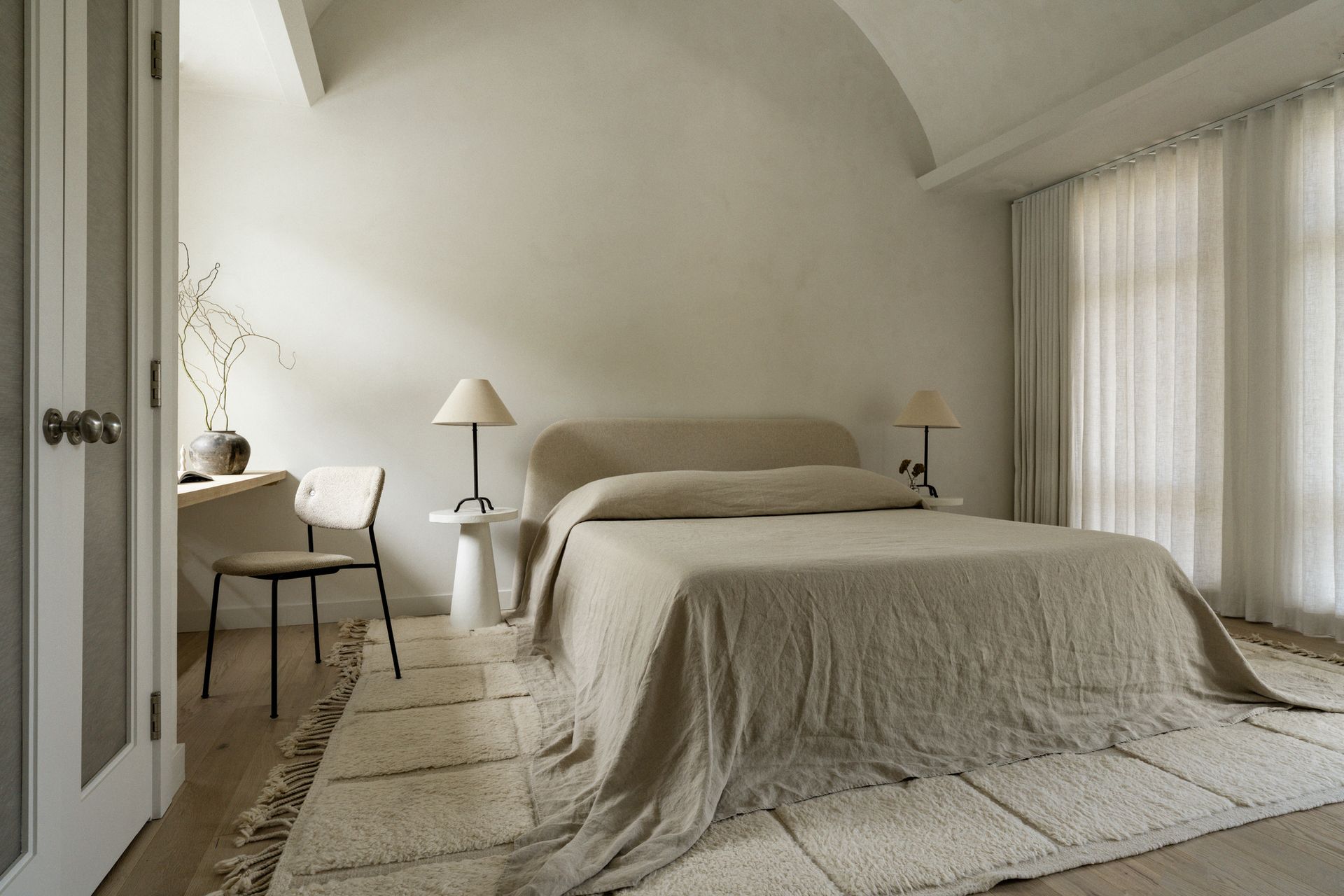 As well as those hard textures, soft materials are also crucial in bringing lightness and airiness to your home during the summer months. The right material can have a light and ethereal quality, but you should look to a soft material's quality too. 'For a cool and relaxing bedroom, use natural fibers and breathable fabrics on furniture,' encourages Grey Joyner of North Carolina-based Grey Joyner Interiors. 
In this calming and minimalist home designed by Emily Lauren Interiors,  Emily Brown selected a material palette that would bring an airiness and cool feeling to the home. 
'The material palette includes linen bedding and drapery, and pops of boucle, shearling. Dressing the windows with ceiling-mounted linen drapery allowed the natural light in but still provides guests with privacy when needed,' says Emily.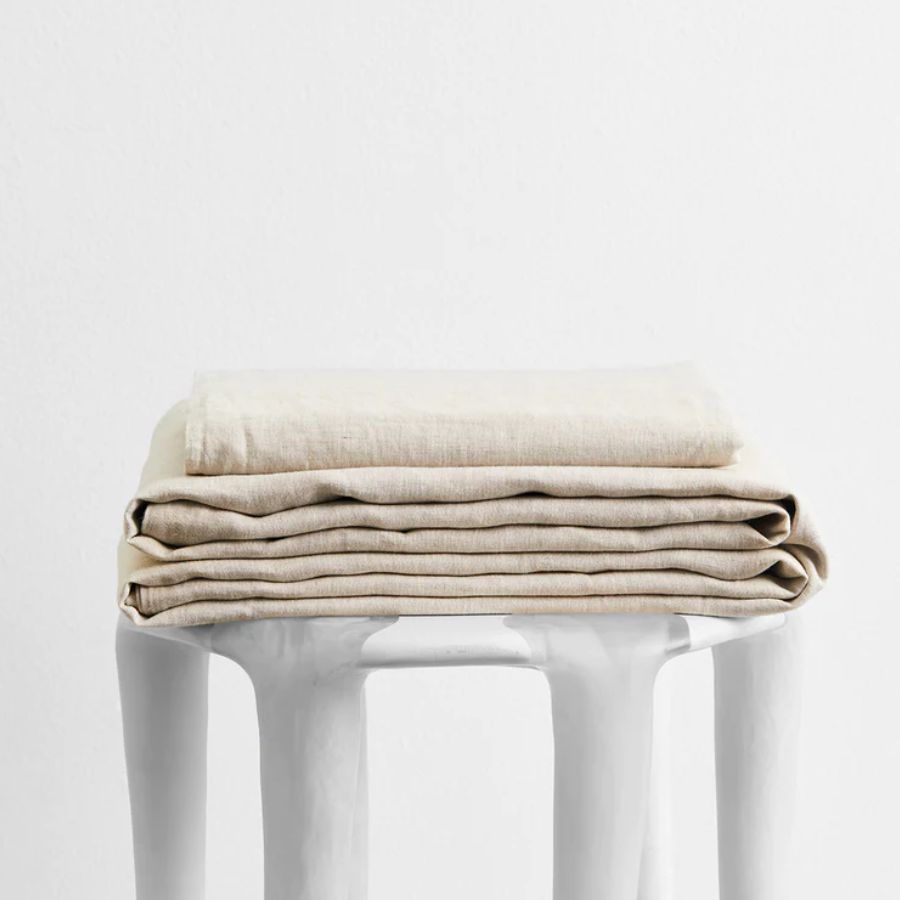 Oatmeal linen full sheet set
Material: Linen
Color: Oatmeal
Price: $280
4. Harness the power of houseplants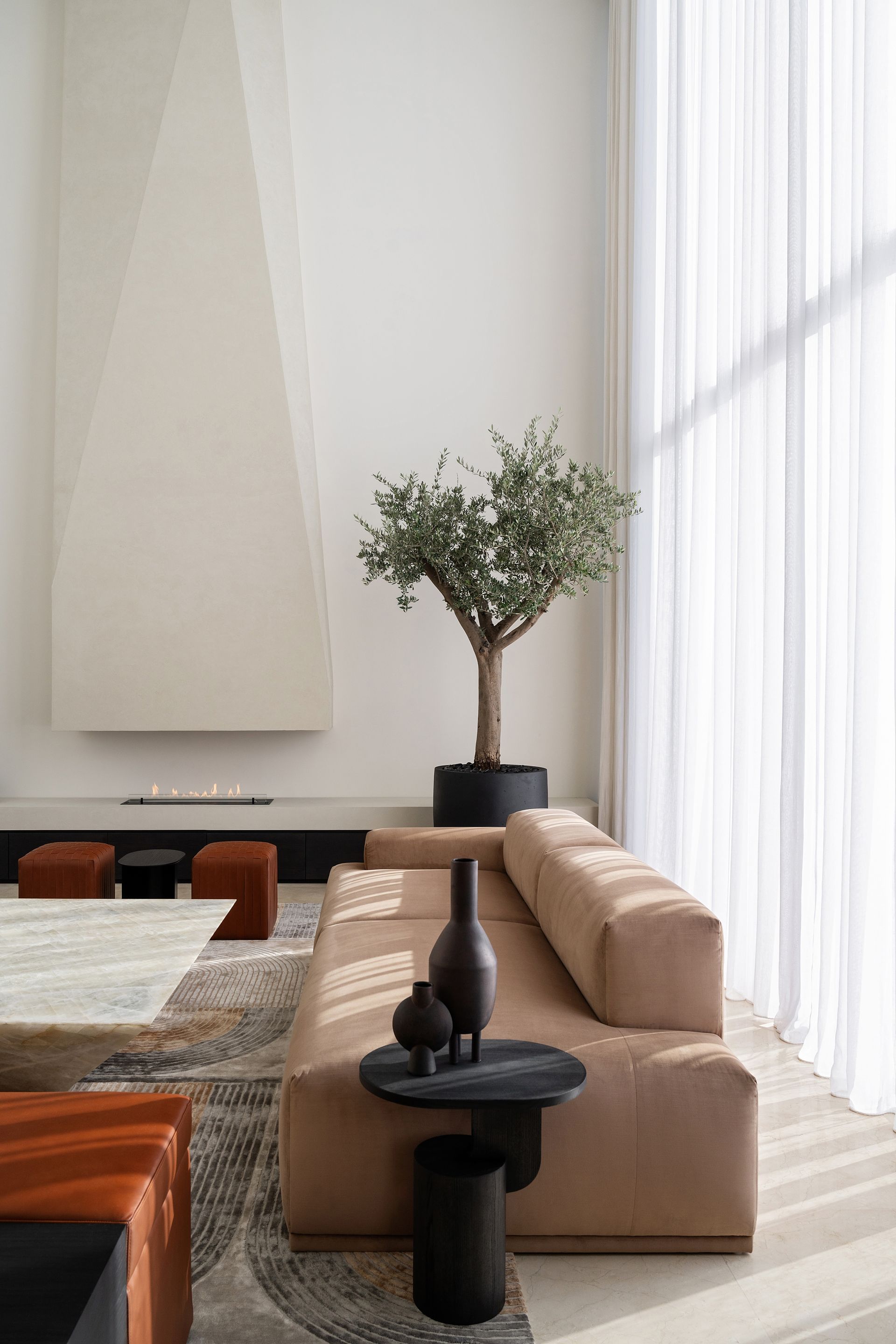 Don't underestimate the power of the houseplant to cool down your interiors. 'Placing indoor plants around the rooms is a great way to cool your space down, says  Grey.  
The best indoor trees and house plants have air-purifying qualities that help keep your home cool. Almost acting as natural air conditioners, they generate moisture into the atmosphere from their leaves when the environment warms up. This helps stuffy rooms with a lack of airflow cool down. 
The most heat-efficient plants are rubber plants and larger leaf palms that have cooling properties owing to the large surface area of their palms. 'With its beautiful white blooms, the peace lily also enhances indoor aesthetics while purifying the air. Its high transpiration rate contributes to a cooler environment by releasing water vapor into the air,' says Zahid Adnan, plant expert at The Plant Bible.
5. Arrange furniture to encourage a good airflow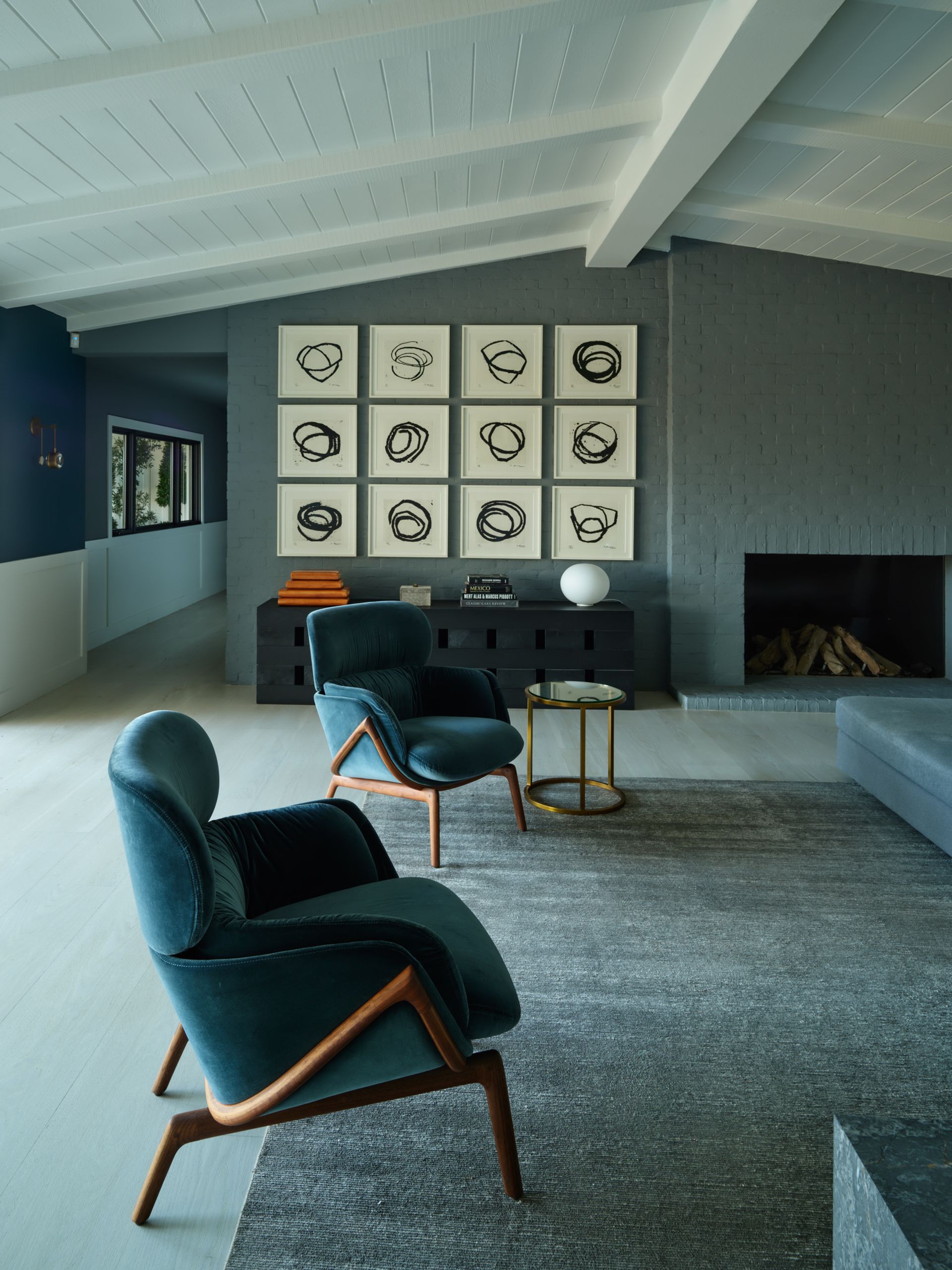 Finally, rearranging furniture might just be the quick fix your home needs to feel cooler. Decluttering can help a space feel more open, and airy, and therefore decrease the temperature by improving the airflow. 
'Energy flows through your home like people do, so good walkways, well-designed entryways, transitions, and plenty of open spaces are key to making a home feel naturally cool,' says Nadia. 'When the air has room to flow, your space will feel cooler.' 
Removing a few furniture items or editing in a way that creates spaces for your eye to rest will make your room feel cooler. 'It will also lighten up your color scheme if you are looking to add a dose of refreshment to any room – so it will look brighter, cleaner and cooler all at once.'