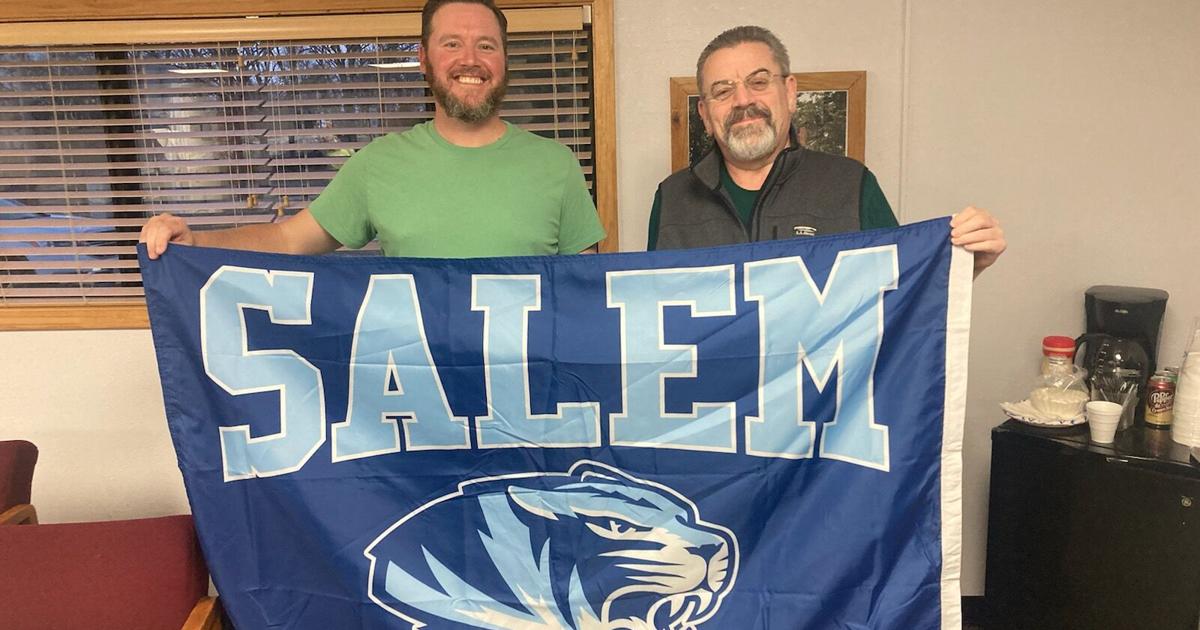 Salem R-80 Board: FEMA harmless place design and style authorised approaching personnel modifications | News
Board Chairman Dustin Howard and board veteran Bernie Sirois each served in their last often scheduled meeting of the Salem R-80 Board of Schooling Thursday night time. The board gave presents to each and every, commemorating their provider on the board.
On the docket Thursday was a amount of crucial issues both equally in open up and in shut sessions.
In open up session, the board:
• unanimously authorized updates to the Secure Return to In-Individual Instruction and Continuity of Companies Strategy (SRCSP) as the vast majority of COVID-19 relevant limits have been lifted across the country. Superintendent Lynne Reed advised the board that she believed that she experienced scoured the coverage well plenty of to take away nearly every little thing with regards to COVID-19.
• reviewed what type of construction to go through for a room with the secondary use of a FEMA protected place. 3 possibilities in specific ended up drawn up that would match into requirements for a grant from FEMA pertaining to facilities with the secondary use of a FEMA-safe and sound room. The board unanimously voted to move forward with the solution that included a wing of new school rooms in just the layout specifications. If the FEMA-safe and sound space grant software is authorised, the bulk of the charge for the renovation will be compensated for by that grant and the expense to the district is approximated to be all around $800,000. The board indicated that they selected the classroom possibility due to the fact it would in shape in properly with designs for long term renovations.
Also at Thursday's assembly, the board:
• unanimously accepted a meals provider bid from Opaa! Meals Administration Inc. Opaa! is predicted to carry the district's food stuff solutions persistently again into the black on price tag. The company consultant present at the conference attributed substantially of that to the bulk shopping for power of their corporation which presents solutions for extra than 120 educational facilities in the state,
• was presented college student recognition from A.J. Tinker (who introduced Justin Arthur and Joseph McCarter, winners at the Building Trades District Contest) and Amber Pryor and Bryson Barnes (who released college students Denise Stoner, Sierra Rusco and Liberty Ross, leading scorers at the FBLA District contest),
• was offered a thank-you card from Pat and Kyle Anderson, thanking the district for the memory stone in remembrance of Anderson's father,
• was introduced the Superintendent's Report from Reed. The report provided updates on finances, ESP update, and tuition. A tuition advice will be supplied to the board in April,
• was presented principal reports from Anderson, Parks, Blau, Knowledge, and Moody,
• unanimously voted to declare a 1990 Dodge Ram fifty percent-ton truck as surplus,
• unanimously voted to declare a 2010 Intercontinental Max 4 bus as surplus,
• unanimously voted to set summer months school dates for May 23 – June 10
• accredited to acknowledge a $40,000 health and fitness center floor sponsorship bid from the Lender of Salem. Board member Howard abstained.
• unanimously permitted to set the corporation meeting for April 19 at 5:45 p.m. to choose board officers for the coming year, right away prior to the first board conference right after the April election which will be at 6 p.m. that exact same evening.
• unanimously authorised resignations from Lisa Jadwin, Tina McKee, Kristal Mihlfeld, Jake Reardon, Nick Frillman, Steven Taylor, Brian McNamee, Jerry Adkins, Bessie Sanders, and Darcy Reardon.
All board members ended up current during a closed session conference of the Salem R-80 Board of Schooling Thursday night. The board voted to reassign Marty Anderson to the posture of Exclusive Plans Director for the 2022-2023 college year. The motion was made by Andrew Wynn seconded by Steven Patterson. The motion handed 6-1, with Bernie Sirois voting towards.
The board voted to reassign Tori Snitker to the place of significant college principal. The motion handed 6-1, with Sirois towards.
Branden Piatt will be reassigned to the placement of Assistant Significant University Principal for the 2022-2023 faculty year. The motion passed 7-.
In closed session, the board also voted:
• unopposed to retain the services of Salem Higher Elementary probationary teacher Ashlyn Patterson. The motion passed 6–1, with Steven Patterson abstaining.
• unopposed to employ substantial university probationary teacher Jared Patterson, with Steven Patterson abstaining. Patterson also abstained when the board voted 6–1 to employ Jared Patterson as middle college football mentor.
• 5-2 to use Bryan Carty as Tiger basketball head coach, with Wynn and Patterson voting versus.
The board unanimously handed the adhering to hires:
• William Lynch Elementary probationary instructors, Julie Harris, Destiny Hill, Meghan Lawrence, Melissa Lettman, Amanda Oppelt, Emily Parker, Shannon Phelps, Katie Sapp, and Raylene Wilson.
• Upper Elementary probationary lecturers Alivia Elliott, Amanda Hanger, and Melanie Smith.
• Center University probationary lecturers Kathleen Cole, Cayde Jackson, Chris Jessen, Amy Sanders, and Melinda Tucker.
• High Faculty probationary instructors Lisa Baker, Bryson Barnes, Kristen Barnes, Bryan Carty, Andy Felkerson, Derek Freeman, Martin Grey, Mark Howard, Tyler McConnell, Charles Mosley, Zachary Miller, Eric Myers, Brooke Rogers, Makayla Schafer, Janelle Wesson, Cody Woody, and AJ Tinker.
• Katlyn Swyers, UE instructor and Melynda Dillon, UE Distinctive Schooling instructor
• Bryson Barnes, head soccer Kristen Barnes, head volleyball Derek Freeman, head monitor Tony Edwards, head baseball Will Hubbs, head tennis Travis Sampson, cross country and Kyle Anderson, golf Bryan Carty, assistant football Tony Edwards, assistant soccer coach Kyle Anderson, assistant football Dustin Bell, assistant football and Mark Howard, center school football Elizabeth Hogan, fall cheerleading Courtney Smith, center school cheerleading Kristen Barnes, middle college volleyball Andy Felkerson, assistant boys basketball Chris Kamprath, eighth grade boys basketball Calvin Malone, seventh grade boys basketball Travis Sampson, assistant monitor and Chris Kamprath, assistant observe.