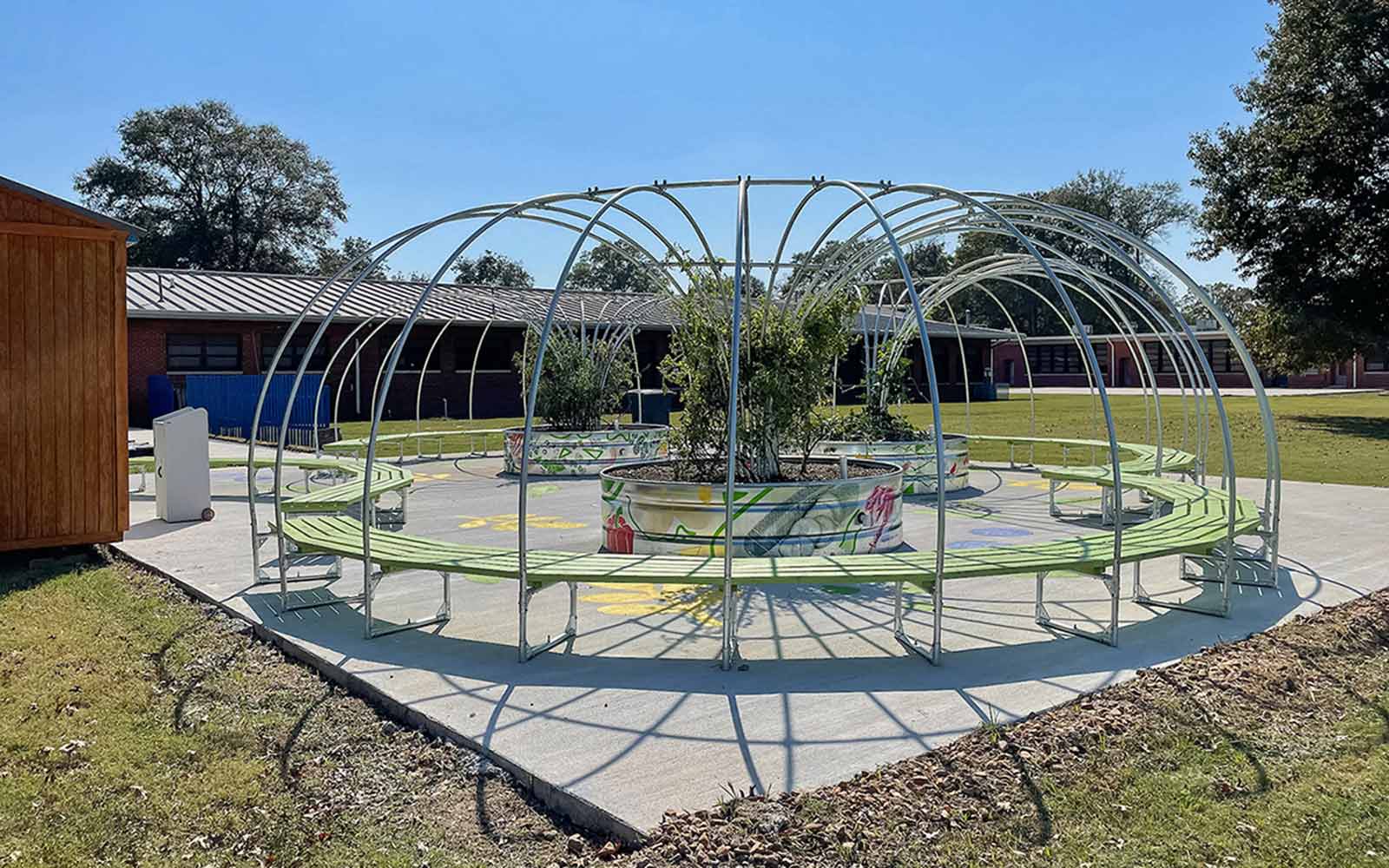 As learning gardens bloom, ribbon-cutting ceremonies celebrate community collaboration in Jackson, Leland
Contact: Vanessa Beeson
STARKVILLE, Miss.—Learning is in full bloom at area schools in Jackson and Leland as Mississippi State faculty are celebrating alongside district and community leaders with dual ribbon-cutting ceremonies for school gardens today [Oct. 8]. 
Over the past year, an MSU cross-college collaboration has led to the design and completion of gardens at Galloway Elementary School in Jackson and Leland School Park in the Delta. Both gardens employed an award-winning design concept called The Living Room: A Freeware Learning Garden Focused on Health, Food and Nutrition Education. The model was developed by MSU faculty and students in the College of Agriculture and Life Sciences' landscape architecture department and the College of Architecture, Art and Design's architecture and graphic design programs.
Cory Gallo, a landscape architecture professor, co-led the project with Hans Herrmann, architecture professor, and Suzanne Powney, associate professor of graphic design. He said each design challenged MSU students to improve upon the concept of learning gardens.
"The students were intentional in the design approach and asked important questions about how the gardens can contribute to education. This resulted in a design that included minimized growth space, ample seating, a chalkboard and other features that created the function and feel of an outdoor classroom," Gallo said. "Calling it a Living Room design came from the idea of creating a place where education flourishes. It's about building a better learning space that can be actively used. Once you establish the idea that the garden is a classroom, children approach it with that learning mindset."
Travis Crabtree, one of two project curators for the overarching Fertile Ground project of which the Galloway learning garden is a part, explained the garden's role in telling the story of food access in Mississippi's capital.
"Fertile Ground is a public art installation aimed to inform the public about food access through the medium of public art and design. The learning garden is one of approximately 15 different installations across the city that seek to gain the public's attention about food insecurity," Crabtree said. "The garden faces a fast food corridor and is located in one of Jackson's biggest food swamps, where an abundance of foods with limited nutritional value are readily available. The learning garden is focused, in part, on teaching kids about healthier food options."
The MSU landscape architecture alumnus said he is proud of the garden's concept and excited to build something with his alma mater.
"We're fortunate to have partnered with Mississippi State's design/build collaboration. Learning gardens can be a challenge to manage and maintain. We thought about the sustainability and longevity and how the garden would last from a physical, educational and community standpoint. The design will help teachers and the surrounding community use the garden in the way we envisioned, while also taking ownership of it and making it their own," Crabtree said.  
Susie Williams, former Leland School Park principal who is now curriculum coordinator for the district, said she is proud of the Leland community's hard work in bringing their school garden to fruition, which involved hands-on help from community members, administrators, teachers, students and even the high school football team.
"I am excited about the relationships that have been established, the growth opportunity for our teachers and students and the opportunities to expand and collaborate with community partners and Mississippi State University," she said. "Students can engage in learning in the fresh outdoors, interact with Mother Nature and enjoy a change of pace from the traditional classroom setting." 
Jackson Mayor Chokwe Antar Lumumba was on hand to commemorate the Galloway garden, which is part of Fertile Ground, funded by Bloomberg Philanthropies. Utah's Pikus Concrete and Pennsylvania's Significant Developments also collaborated on the project.
Collaborators for Leland School Park garden include AIM for CHANGE (Advancing, Inspiring, Motivating for Community Health through Extension), an MSU Extension program, which funded the project with support from the Centers for Disease Control and Prevention, and Delta EATS (Edible Agriculture Teaching Students), a nonprofit group that is part of the Delta Health Alliance.   
For more on MSU's Department of Landscape Architecture, visit https://www.lalc.msstate.edu/; the School of Architecture, visit https://www.caad.msstate.edu/academics/majors/architecture and the Department of Art's graphic design program, visit www.caad.msstate.edu/category/graphic-design.
MSU is Mississippi's leading university available online at www.msstate.edu.
http://www.msstate.edu/newsroom/article/2021/10/learning-gardens-bloom-ribbon-cutting-ceremonies-celebrate-community