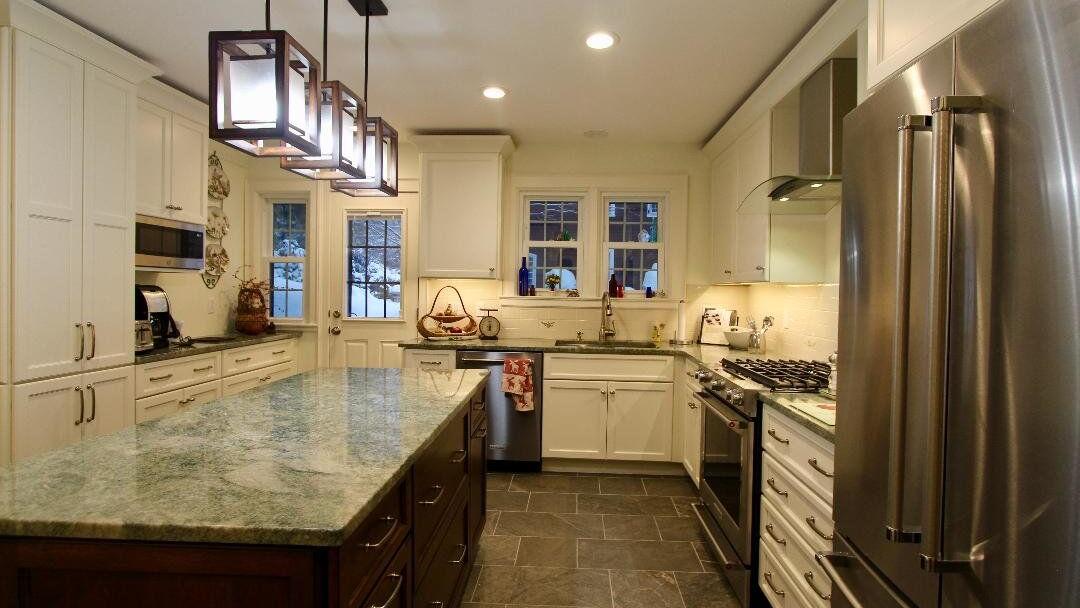 Morrison's Home Improvement helps client get most return for home improvement investment | Sponsored
Lenox, Massachusetts — Most people's greatest financial asset is their home, and with housing prices skyrocketing in some areas and increasing significantly just about everywhere, many are wondering which improvements might bring about the best return on their investments. Even some homeowners who aren't planning to sell in the next year or so are looking down the road to ensure their investments are in the right projects.
That's where Morrison's Home Improvement can come in handy. Besides a stellar reputation for professional, quality goods and services, the staff at Morrison's also believes in helping clients make smart choices.
"We often refer to the 'New England Cost vs. Value Index,'" owner Steve Morrison said. "When customers ask what projects pay off the most, we go by research, not just gut instinct."
Morrison's, which has been voted "Best of the Berkshires" for five years running, has posted the entire value index on its website.
"Having that resource available to customers is important," Morrison said. "A lot of times small jobs become big jobs, and we want customers to know their options every step of the way."
Harvard's Joint Center for Housing Studies estimates that Americans will have spent about $337 billion on home remodeling in the second half of 2021.
But just because a homeowner decides to knock out a wall or change out flooring, that decision doesn't always add up to a smart investment for increasing the value of the home.
Harvard's study shows that the average amount recouped for home remodeling projects is on the decline, but with home prices increasing anyway, those upgrades may end up being worth a lot more as time goes by.
According to the National Association of Realtors, 76% of real estate agents say that home renovation activity is on the rise. Instead of changing locations, many homeowners see the lack of inventory as a sign to reconfigure their current residences.
The key then is knowing what upgrades increase home value when the time to sell inevitably comes, many home builders and sellers advise. To that point there are a few things that homeowners should keep in mind:
The return on your investment depends on the initial value of your house, the value of houses in your immediate neighborhood, the housing market where you live, how soon you sell after making improvements, and the quality of the project itself.
Renovations can make owners happier in their residences, and that should always be a factor in choosing a project. However, some updates can add more value than others when it's time to sell or refinance.
Some of the most desired home improvements, such as luxury bathrooms, updated kitchens, a new deck or remodeled main suite can come with a hefty price tag. So homeowners must determine if their happiness and comfort is the main goal or if a major return on their investment matters more when taking on a remodeling project.
"The best customers are educated ones," Morrison said. "We explain what the job consists of, and the customer can decide based on their budget and comfort level."
A recent real estate study shows that garage-door replacement yields the greatest percentage of cost retention, largely because of its relatively low cost and its impact on appearance. The average cost in New England is just less than $4,000 for a new garage door, and homeowners can expect to see almost all of that amount recouped at sale.
It's probably no accident that eight of the top 10 cost-effective home improvements are for projects outside of the home, such as decks, siding and windows, even though the outside generally represents less than 10% of the property.
To make informed decisions on which projects to take before listing a property for sale, experts suggest homeowners consult recent reports for the most up-to-date information. And even more important, make sure to find a contractor you can trust.
There are a lot of different ways to do the same project, but experts with experience, a proven track record and longevity in the area are good places to start, according to various real estate experts.
Advice on how to finish half-completed work, how to approach new projects and how to choose projects based on sustainability are important things to look for that will help consumers protect themselves against scams and shoddy workmanship.
Home improvement trends vary over time. Reports and indexes can help to find current design trends as well as those that hold up well over time.
"Realtors and homeowners alike recognize the value of taking on a major home remodeling project," former NAR President John Smaby said in a news release.
Morrison's has been in Massachusetts since 1992 and has a long list of satisfied customers. Testimonials from new and repeat business are all over its website, including these words from October about a major project in Pittsfield.
"This three-season room will give our family many years of pleasure and has added value to our home," Andy Lipps and Eva Sereghy wrote.

https://www.berkshireeagle.com/sponsored/morrison-s-home-improvement-helps-client-get-most-return-for-home-improvement-investment/article_aa99da86-2fb5-11ec-817f-a325a069a3ca.html