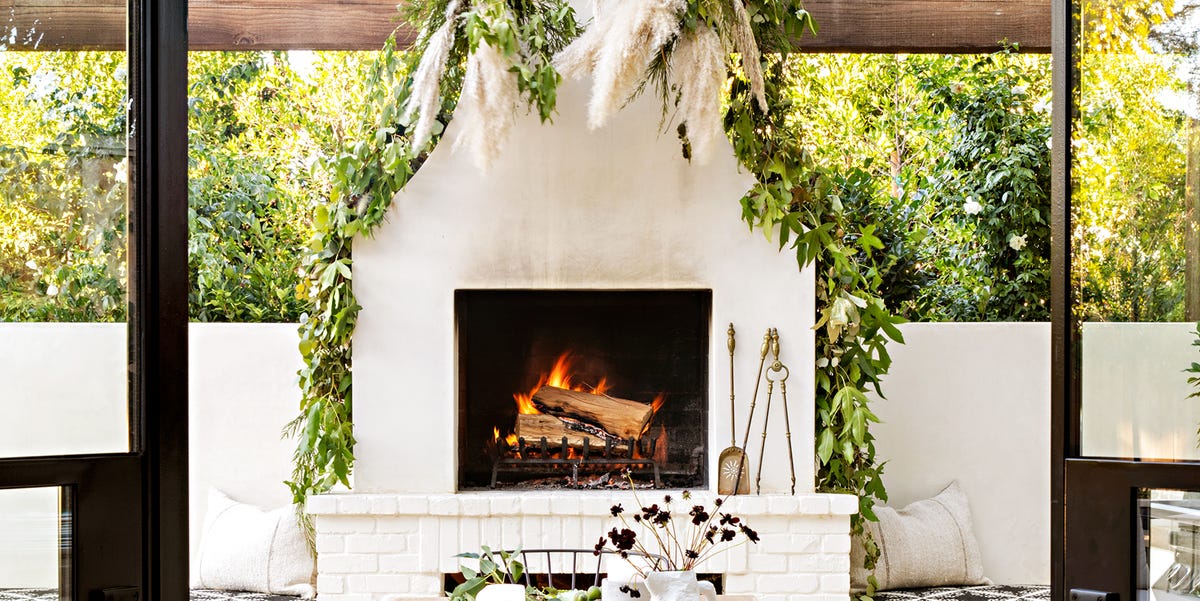 What Does It Take to Build An Outdoor Fireplace?
Backyards are no longer limited to simple green spaces sprinkled with lawn furniture, a hammock, the occasional painted gnome. These days, all the cool kids are adding an outdoor fireplace or a fire pit to their outdoor living room. In fact. Annie Thornton, an outdoor expert at Houzz, a resource for finding home renovations and landscaping professionals, says that according to their in-house study, nearly 2 in 5 renovating homeowners purchased fire features for their outdoor decor last year. The popular amenity brings light and warmth, becoming a natural gathering spot. "These can add ambiance and functionality to a lounge area, extending the enjoyment of your outdoor space during the year," says Thornton.
But like all good home improvements, they come with a cost. Pinpointing what it costs to build an outdoor fireplace is tough as it varies by location, the type of fireplace (gas or wood-burning), and whether you're DIY'ing (we wouldn't!) or hiring a professional. A typical fire pit project may cost between $1,500 and $6,500, notes Thornton, while an actual fireplace is much more pricey. Charlotte Granville, home remodeling specialist at Fixr.com, a site which connects people with local contractors for estimates, says the average cost of a gas fireplace ranges from $2,000 to $6,000 for a prefab unit, including installation. But a gas unit with custom installation can cost anywhere between $4,000 and $8,000. On the other hand, wood-burning fireplaces usually cost $3,000 to $10,000 for a prefab unit and $5,000 to $30,000 for a custom or masonry unit.
Then, of course, there are the aesthetics. Will you be going with red brick or bringing in an expensive stone? You also have to consider the state of your existing yard. Will you need to hire someone to clear out shrubs or trees? Does the ground need to be leveled so you have a sturdy foundation?
More From House Beautiful
All of these considerations add to the total price tag of your outdoor fireplace. Consider the categories below before building, so that you have a realistic expectation of what yours might cost, and can stick close to your budget. After all, "when adding an outdoor fireplace to your space, having a clear vision and setting expectations upfront is important," cautions Joe Raboine, vice president of design at Belgard, a manufacturer of hardscapes and outdoor living essentials. Here are the factors to consider as you do your due diligence.
Permits
Before you dream of ember-lit nights under the stars, reach out to your local municipality and check on zoning and permits. "If the fireplace exceeds a certain height, your city may require a permit," says Jay Sanders, contractor and owner of Castle Dream Construction, a home remodeling company in Baltimore. "Always check before you build anything yourself." A building permit can cost between $250 to $500 for a wood burning fireplace. A gas fireplace will require a gas line installation permit, which can cost up to $400.
Each location is different and may also have restrictions for when you can actually use the outdoor fireplace, especially if you're in a dry climate prone to drought and wildfires, like California. Consider whether the investment is worth the time you plan to spend using the outdoor fireplace. Check the local outdoor burning ordinance well in advance of construction.
Land and site prep
Once you're cleared to build, prep the spot for fireplace construction. "You need to understand the layout of your yard, as this helps determine the location and size of your fireplace," Raboine says. The outdoor fireplace (or any fire feature, for that matter) should be at least 10 feet from your house or any other flammable structure. Raboine recommends placing the fireplace in the back portion of your outdoor space, facing the house. That way, it will serve as a visual anchor and can be enjoyed even from the inside.
Once the location is decided, you want to clear the land so you can level the area to create the base, a concrete foundation, Sanders says. "Typically a 25-foot-by-25-foot foundation will cost between $2,500 to $3,000," he adds. "This size is enough for the fireplace and a small sitting area in the front."
But if you live in a colder climate, or the ground won't support a concrete slab, that can increase costs. "In the most severe northern climates, you may have to excavate 6' down and build a poured concrete foundation. If that's the case, it could add at least a few thousand dollars to the fireplace build versus just pouring a floating slab," explains Raboine.
The prep may also require calling in landscaping services to remove any shrubs and trim any tree branches nearby. Debris removal and yard cleanup can cost $550, on average, with the range of $205 to $805, according to data from Lawn Love, a landscaping service.
This, of course, doesn't take into account any extra costs you will incur if you have to demolish an existing structure.
Materials
An outdoor fireplace is made up of three parts: base, firebox, and chimney or vents. Start off by pouring a reinforced concrete slab to hold your structure; this is the base. Then you need a firebox, the actual area to house the fire. These can be ordered as pre-fab units or built. If you build a firebox, you will need to estimate $3 to $5 per square foot for fire brick.
No fireplace is completely without a way to get rid of excess smoke. "An outdoor fireplace must draw smoke up and away from the firebox opening," says Mark Shattuck, president of Dream Home Studio architecture firm in Atlanta. "This requires a specific flue diameter and length calibrated to the firebox volume. Otherwise, smoke will blow toward the seating area, rendering the fireplace a useless and costly disaster." A wood burning fireplace will have a chimney to funnel smoke and ashes, and a gas fireplace will have vents.
You'll also have to consider how you want the fireplace to look. Concrete tends to be the most affordable option, costing between $3 and $25 per square foot, Granville says. "Concrete is also great in terms of durability as it can withstand harsh weather conditions."
Red brick, stone,and stucco are other options. "Brick costs about $5 per square foot, while granite can cost about $50 per square foot," Sanders explains.
Labor
"Building a fireplace is a job that should be done by a professional, or at least someone with some knowledge on how to build a solid structure," Sanders says. "If you don't align the structure properly you risk the chance of it collapsing, which can be very dangerous."
Budget somewhere between $50 to $150 per hour for a contractor, with $40 to $50 per hour for subcontractors. Ask how long the job might take to get an estimate of total cost. (A reputable contractor can cost between $10,000 and $25,000, based on suggested rates by professionals listing services on Houzz.)
Hiring a professional is especially important when you're considering a gas fireplace as "it is not a DIY job," Sanders says. "The cost of this could be around $1,500 to $2,500," he estimates. According to Granville, the complexity of gas lines can push this cost up to $8,000. "Gas fireplaces need to be connected to a gas line, so depending on how far the line needs to go, it can potentially increase the costs by up to $2,000," she says.
Labor costs for a wood-burning fireplaces are even higher, due to the elaborate installation, and can clock in at around $18,000. "Even prefab units need to be fully lined, framed in, and finished," Granville explains.
Hidden Costs
As is often the case with construction, a hiccup can lead to a great expense. In the case of building an outdoor fireplace, excavation for the foundation can uncover that the soil strength in your backyard is not up to par and will need to be replaced, says Raboine. "If the soil is poor, just excavating, filling with gravel, and compacting, may add an additional $1,500."
Those interested in a gas fireplace should also consider that natural gas prices are on the rise, which can add to the cost of the fireplace in the long run.
Finally, once the structure is in place, think about how you plan to function around it. Will you need a new outdoor sectional or a place to keep firewood? "Storage is often the last thing on your mind when you start creating your outdoor fireplace," Raboine says. But you should probably factor it in; while a small metal log rack can run you only $50, a more elaborate design can cost thousands. Alternatively, you may have to ask your contractor to build a structure—but that's extra, of course.