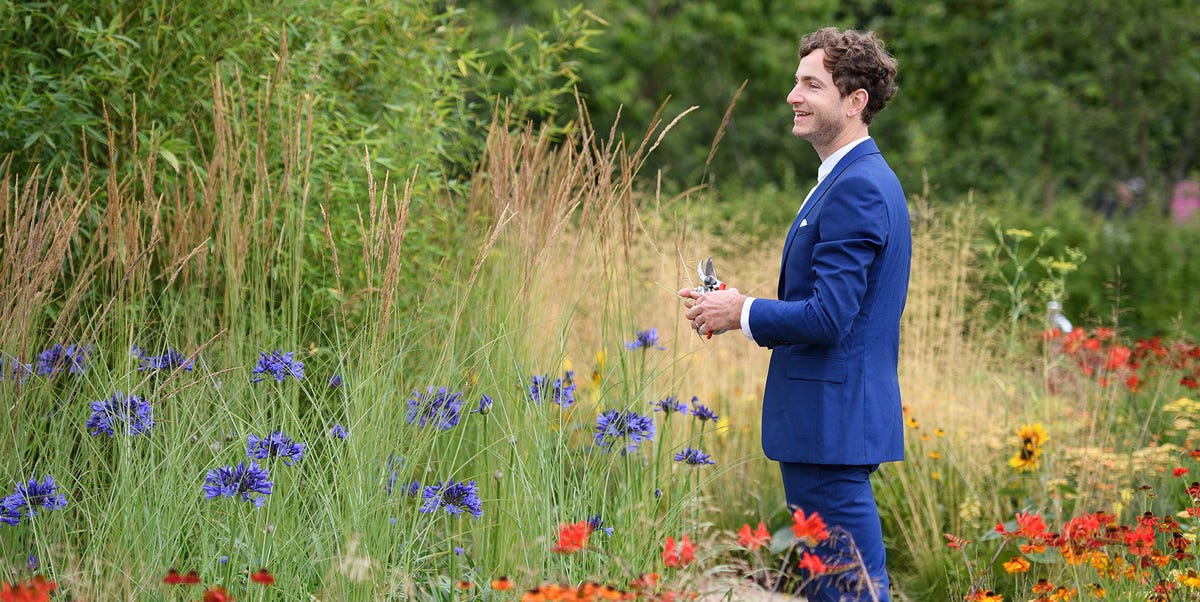 Who is Tom Massey, the garden designer making history at the Chelsea Flower Show?
Tom Massey is an award-winning garden designer, landscaper and RHS Chelsea Flower Show favourite. For 2023, Tom has brought the first-ever insect laboratory to the show. The Royal Entomological Society Garden, designed for the aforementioned charity (RES), will conduct live insect surveys throughout the show.
This isn't Tom's only 'first-ever' at Chelsea. In 2021, he designed a completely organic garden which went on to win two Gold Medals. He told Country Living at the time that he believed that the Yeo Valley Organic Garden was the first attempt at growing everything organically at RHS Chelsea.
But who is Tom Massey – graduate of the London College of Garden Design and presenter of BBC Two's Your Garden Made Perfect – making history at the biggest gardening event in the annual calendar?
Who is Tom Massey?
Tom Massey grew up in South West London, near Richmond Park. On his website says he was inspired by spending long childhood summers on the Roseland Peninsula in rural Cornwall, where he developed a deep love and appreciation for the natural world.
After completing a degree in animation at the Arts University, Bournemouth, he worked in advertising, events and the renovation of a warehouse in Hackney, North London, before deciding to pursue his passion for landscape and garden design.
He took a diploma at the London College of Garden Design, based at the Royal Botanic Gardens in Kew, and graduated with a distinction. Since forming his own practice, Tom Massey Studio, in 2015, he has won a string of awards, including a RHS Gold Medal and The BBC People's Choice Award for the Yeo Valley Organic Garden at RHS Chelsea in 2021.
He's also a presenter for BBC Two's Your Garden Made Perfect, and in April 2023, published his first book, RHS Resilient Garden: Sustainable Gardening for a Changing Climate.
---
Tom Massey's RHS medal history
The Yeo Valley Organic Garden received a Gold Medal for the Show Garden Category.
The Yeo Valley Organic Garden also won the BBC/RHS People's Choice Award for Best Show Garden
RHS Silver-Gilt Medal at Chelsea 2018 for the Lemon Tree Trust Garden
RHS Silver-Gilt Medal at Hampton Court 2017 for the Perennial Sanctuary Garden
RHS Gold Medal and 'Best Conceptual Garden' at Hampton Court 2016 for the UNHCR 'Border Control' Garden
---
Tom Massey's 2021 Chelsea garden: The Royal Entomological Society Garden
"The insect laboratory will be used to study insect numbers visiting the garden during the show, and project magnified images of these insects onto a screen for visitors to gain insight into the biodiversity created by planting," a spokesperson for the RES tells Country Living.
The garden's outdoor lab will be built into a hillside and take visitors down into the landscape, offering an "insect eye view."
READ FULL GARDEN PROFILE
---
Tom Massey's 2021 Chelsea garden: The Yeo Valley Organic Garden
Designed by Tom Massey and supported by Sarah Mead, from the sponsor Yeo Valley Organic, The Yeo Valley Organic Garden was a celebration of wildlife, habitats and plants found in Somerset. You can read an in-depth profile on the garden design here.
We caught up with Tom to ask him all about his 2021 Chelsea design, organic gardening practices and what the future holds after the first ever autumnal Chelsea Flower Show…
Chelsea's first organic show garden – that's quite a coup…
As far as we know, it's never been done before. I'm determined to create a garden without chemical pesticides or fertilisers, using peat-free soil and minimal plastic. Other show gardens have incorporated organic elements but I believe the Yeo Valley Organic Garden is the first attempt at growing everything organically.
Does that make it more stressful?
Gardening this way is less predictable but that makes it more exciting. Sarah Mead, the head gardener at Yeo Valley, has made it clear that winning a medal is definitely secondary to creating a garden that's genuinely organic and promotes that approach. This is my fifth show garden, so I'm familiar with the process, but I'm sure I won't be feeling relaxed the day before judging!
Walk us through your garden…
We've planned a mix of perennials and ornamental grasses. There's going to be meadowland and woodland with birch, willow, medlar and quince trees, so it'll feel like a little slice of Somerset. A stream will flow alongside a stepping-stone pathway leading to a hanging egg-shaped oak hide by Tom Raffield. Mendip stone boulders and charred logs come from Yeo Valley's farmland and will be returned there once the show is over.
Is organic just scruffy and buggy?
We want to prove it can be beautiful, too. Of course, not using chemical pesticides means plants are at more risk from aphids, vine weevils and slugs, but there are good chemical-free pesticides out there such as SB Invigorator. Organic plants don't grow as big but are more resilient, as they don't rely on chemicals for survival.
Any other bug-busting tips?
Encourage predators into your garden – a small pond will bring toads who love to eat slugs. Or, if you know a plant is susceptible to pests, put a bird feeder nearby – the birds will dispense with them.
Could the Chelsea Flower Show go fully organic?
Things are already changing, with the show going peat-free. The next step could be banning chemical pesticides and fertilisers and asking exhibitors to use organic potting compost. I think the judges should also offer marks for sustainability as an incentive. For me, it's about protecting the natural world. At the moment, 40% of insect species in the UK are declining, with a third classed as 'endangered'. If we carry on using insecticides,
we're looking at mass insect extinction in the next 50 years.
How is the show different this year?
Sarah and I were thrilled when the show was scheduled for September. We had been due to exhibit in 2020, when it was cancelled. I didn't want the plants to be wasted, so we delivered them to hospitals. A few were saved for this year. It's been a challenge keeping them vibrant, but organic principles promote reuse over a manicured garden and the ferns and grasses are fuller. I love seeing fruit on trees and silhouettes of seed heads against low autumn light.