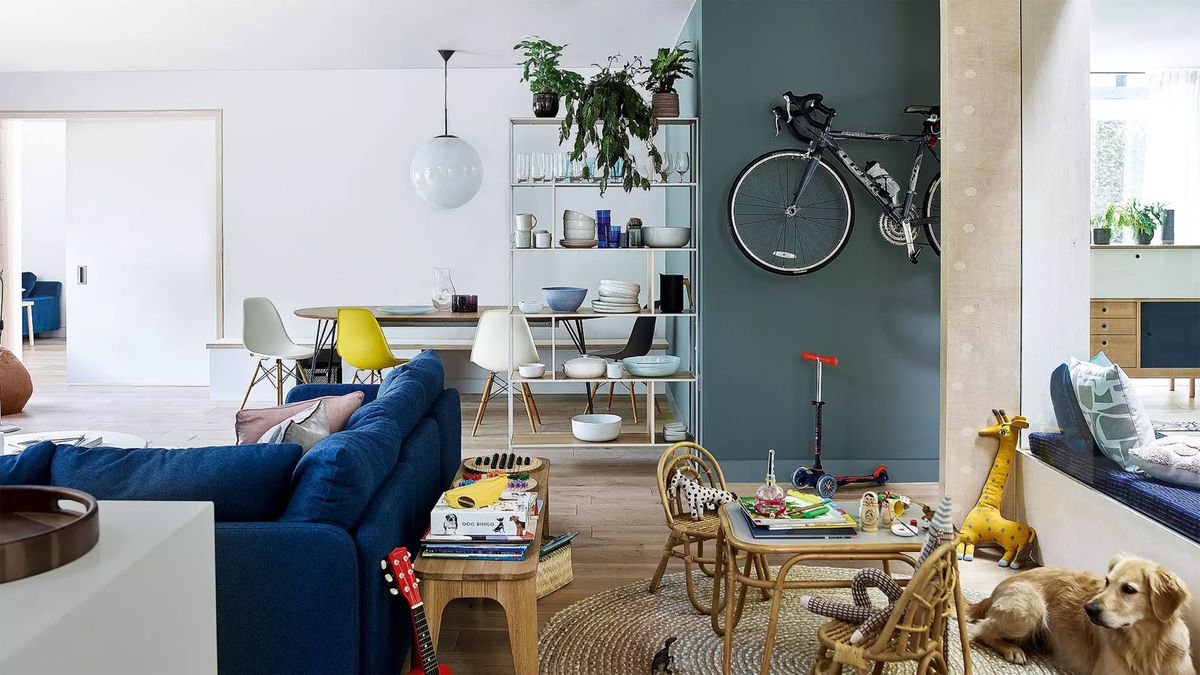 11 open plan living room ideas – seamless and stylish spaces
Well thought-out open plan living room ideas can boast the most clever and stylish of designs. As a multifunctional space, your lounge come dining room takes on a number of different roles, depending on your household and on your lifestyle.
Your living room layout ideas can be tweaked to accommodate for absolutely everyone. They can be a space to entertain friends in the evening, a place to watch movies with the family the next – and an impromptu playroom at any given time. But, these areas don't have to look cramped or messy, as carefully carving and zoning areas means that everyone has their own section without stepping over each other.
Where formal dining areas have fallen slightly out of fashion, a modern open plan living room has become an acceptable place to tuck in. So let these seamless spaces whet your appetite and break the walls of outdated architecture down.
Open plan living room ideas unveiled
'Family living spaces often mean open plan, where one space has to fit all – from watching TV to schoolwork, mealtimes to play, working from home to cooking, and of course relaxation,' Jennifer Morgan, interiors writer, John Lewis & Partners.
'But this hard-working hub of the modern home can look great, too. Style is combined with function, storage is smart and adaptable, while hero pieces give this space as much personality as its family.'
1. Be strategic in a small space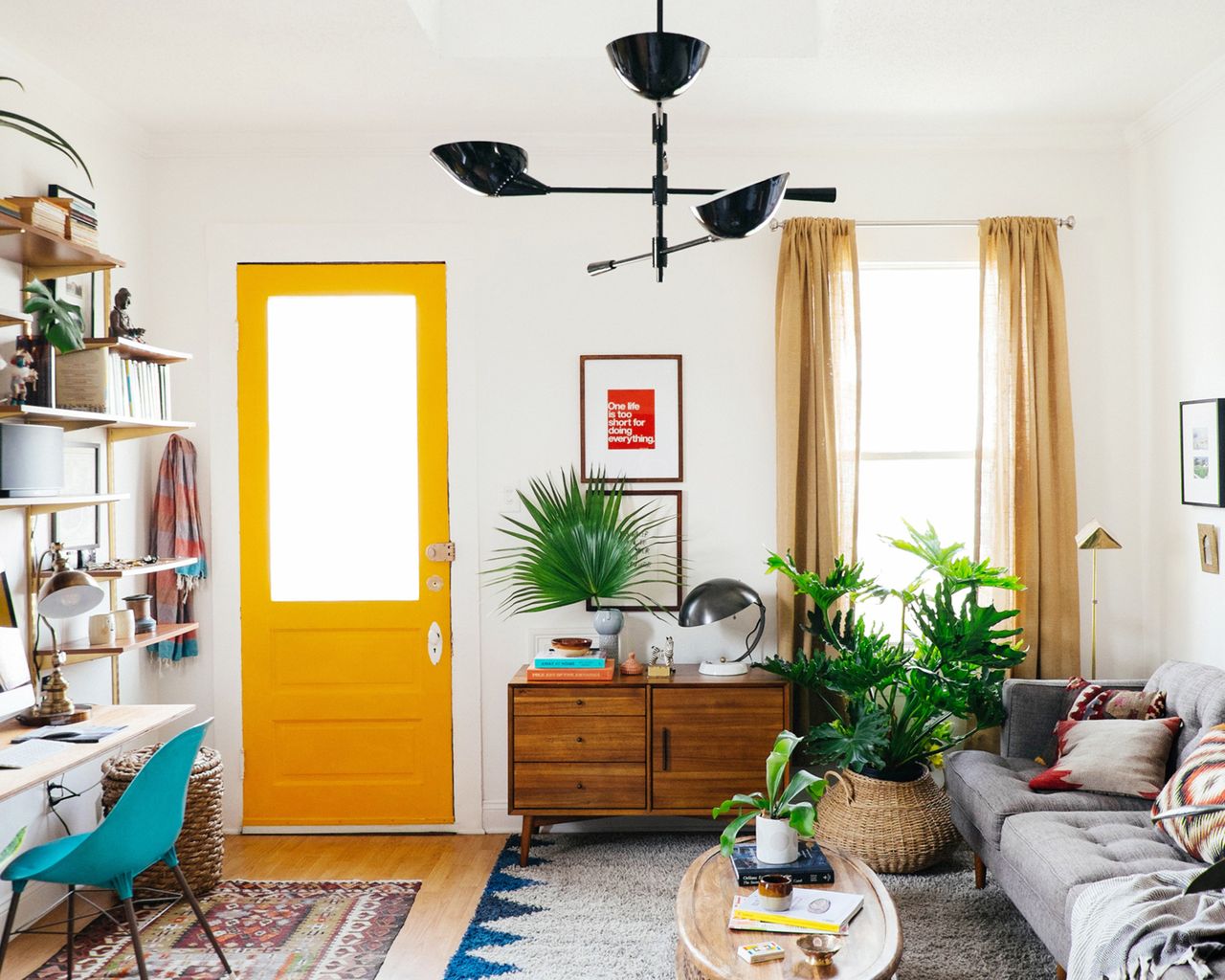 Working with West Elm, Dabito (aka Old Brand New), a graphic designer, photographer, and art director based in New Orleans took to making over his small living room. He proves you can incorporate open plan living room ideas, even if you're short on space.
'When you have a small space, pick furniture that sits low to the ground, like this coffee table. It will make your ceilings feel higher. Choosing leggy furniture also makes any room feel airer, because pieces like these take-up less visual space,' says Jake Lemkowitz, associate manager, social media and digital content.
'Even with a small space, sometimes you have to go big. Start with large pieces and work around them. Dabito went with an 8×10 wool rug which is almost the size of his entire living room. It grounds the space and actually makes it feel bigger.'
'Dabito uses a modular system to store his books, cameras and tchotchkes all the way to the ceiling. He added a small desk component to make the system more functional, and painted the brackets gold so it doubles as an eye-catching statement piece.'
'Add art and mirrors, and you create visual interest in your small space. The only problem is that art can be expensive and hard to find. Dabito turns to magazines to discover frame-worthy art.'
2. Make a cozy space with mustard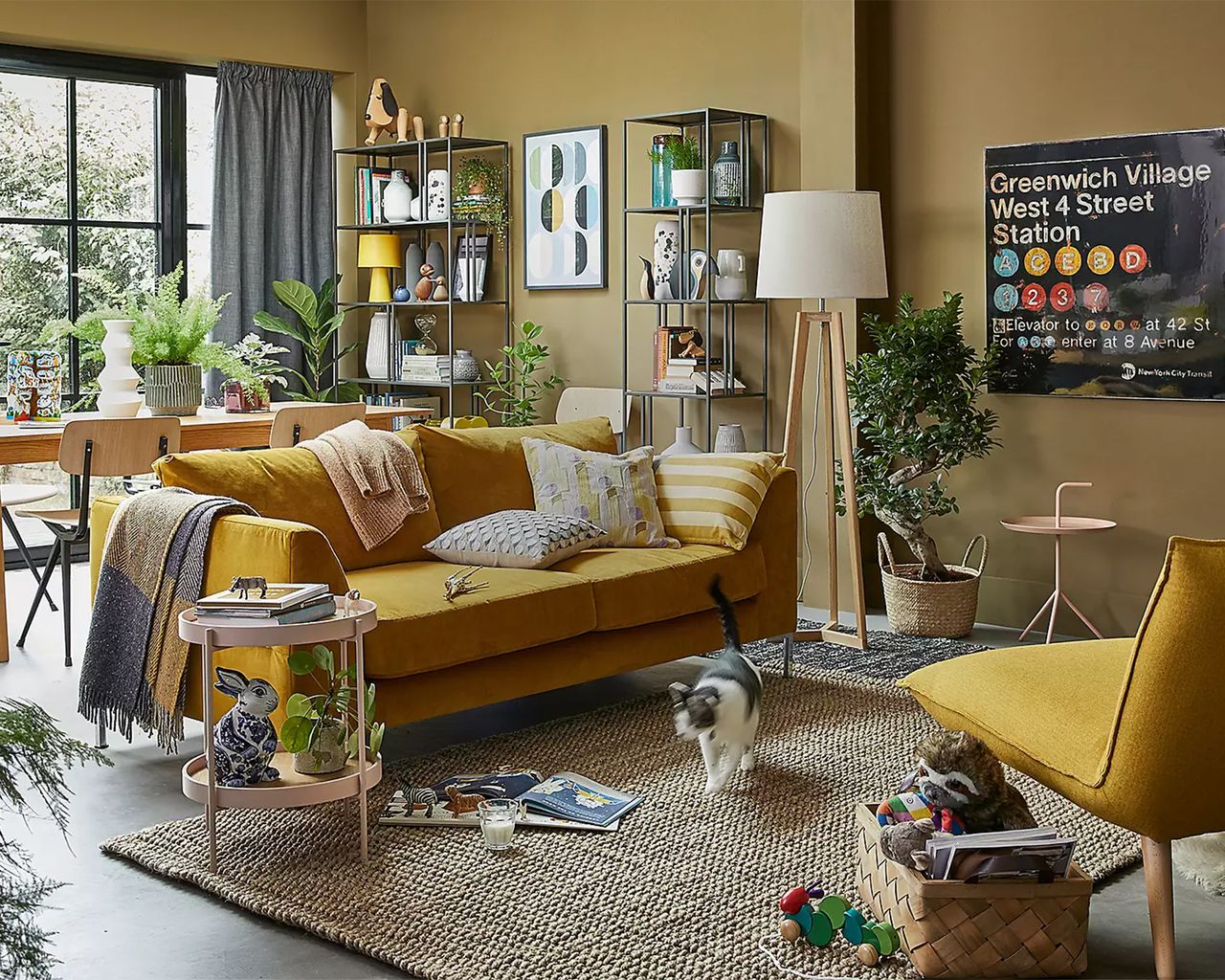 When looking at hues to decorate this space, you may be overwhelmed by the amount of choice and the difficult decision in choosing a living room paint color. But one expert advises us to look at spicy ocher notes for your open-plan living room ideas.
'Mustard yellow is a great choice for a family space, and works well with both light and dark furniture. Choose a practical, washable paint finish for the walls – Little Greene Paint Co's Intelligent Matt Emulsion in Yellow Pink adds warmth to an open-plan space.' says Morgan.
3. Create a free-flowing, modern boho look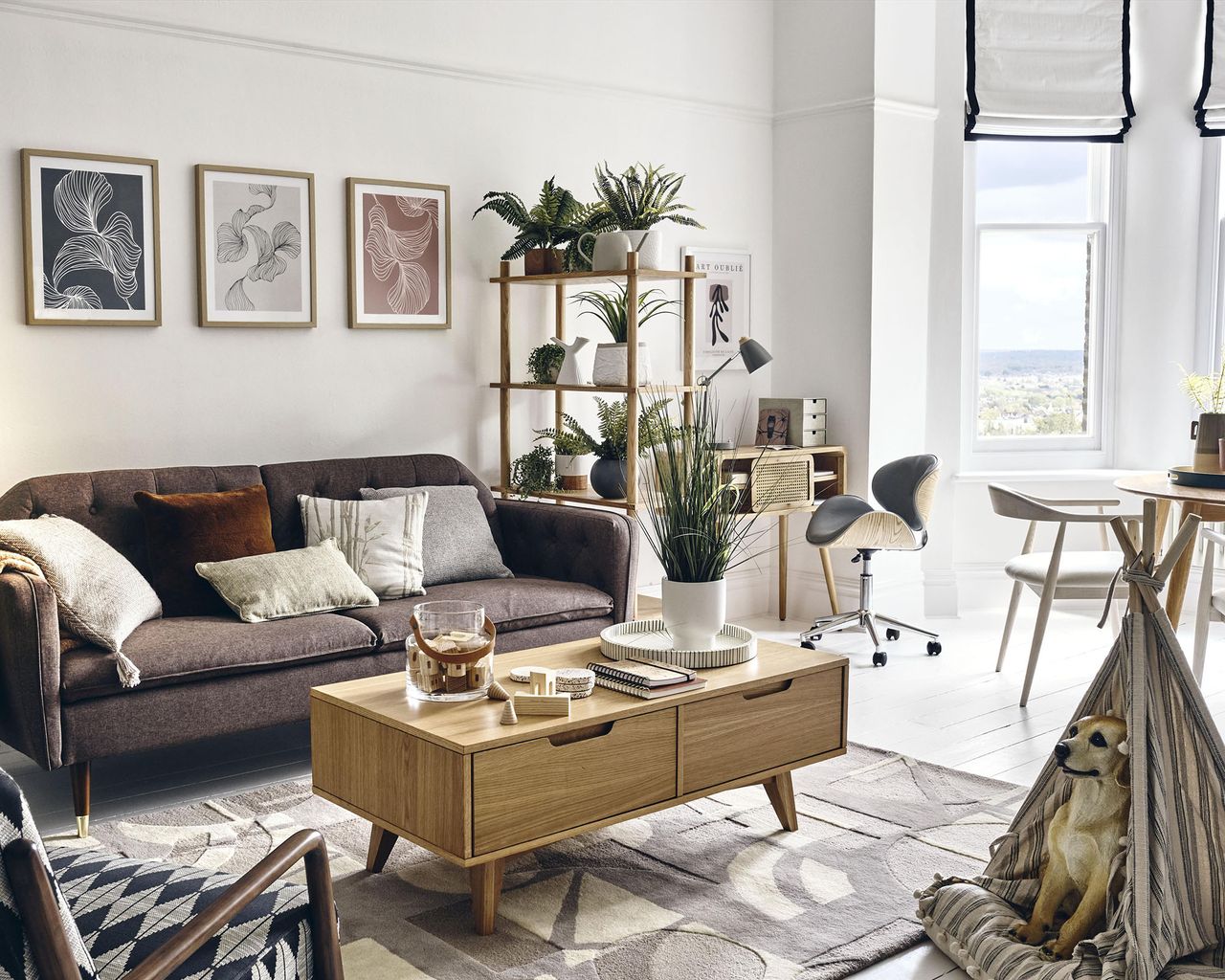 A neutral living room is the perfect canvas for an open-plan living room idea. It's a foundation where you can really make the space your own, adding affordable homewares to inject your own interior personality. Here, white walls are decorated with three frames to stop the living room wall looking too sparse.
'Choose an adaptable palette for an open-plan space, saving color and pattern for a separate room where you can go a little more crazy as you aren't there the whole time,' advises Fionnuala Johnston, partner and senior designer, home design studio, John Lewis & Partners.
4. Choose light furniture that can be easily moved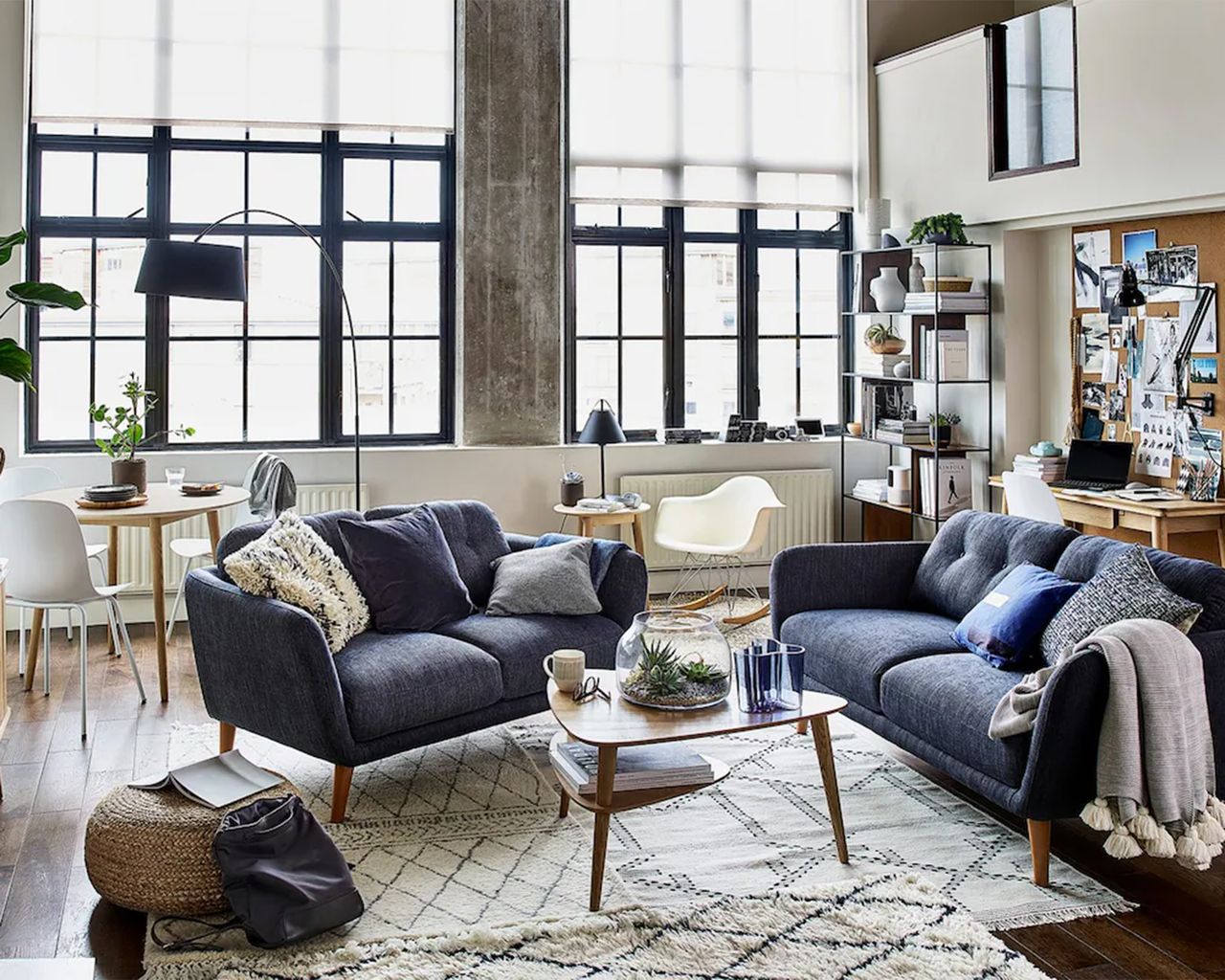 The versatility of an open plan living room layout idea means that you can navigate where you want your furniture and other decor to go  – chopping and changing the structure as the seasons change, or more often if you wish.
Certainly, material advances in design means that modern living rooms are full of lighter (and even stackable) furniture at an affordable price point.
'Make occasional pieces lightweight – you'll be more likely to move a coffee table out of the way for a yoga session if it's easy to lift,' says Morgan.
'One of the simplest updates for a living room that can work in many guises all day long is a pouffe or footstool. Pop a tray on it for a quick snack, prop your feet up after a long day, use for a quick tidy up thanks to its hidden storage, or pull it out as a casual extra seat.'
5. Break the traditional layout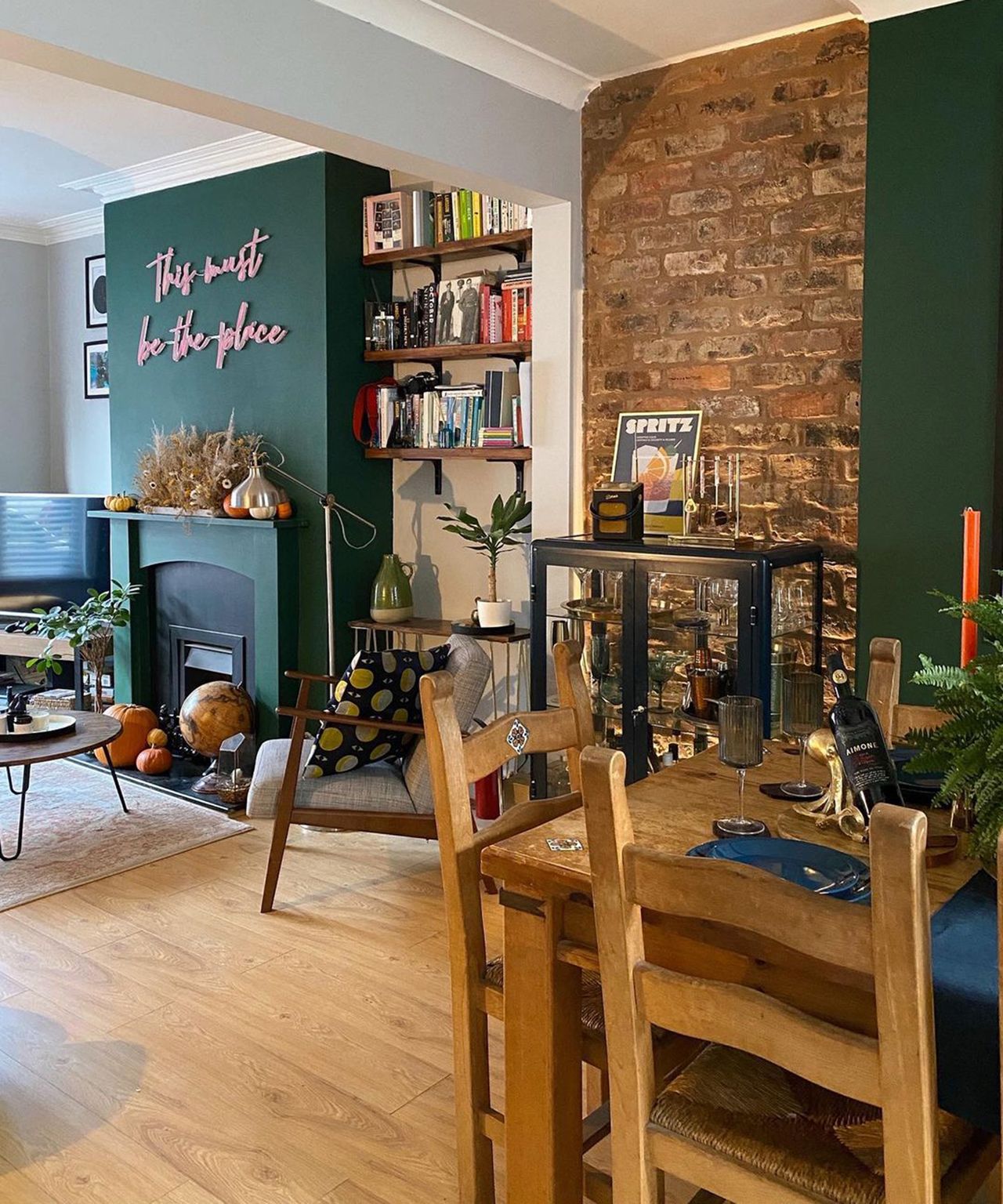 Period homes are privy to having lots of rooms with very distinct purposes, like a traditional living room idea or dining area away from the lounge. But that shouldn't stop you from breaking away from this structure and creating an open plan living room. Yes – this may involve some remodelling so make sure you don't knock down supporting walls. It's always best to check with a professional if in doubt.
'We've designed the layout of the house so that everything is open plan – unlike a traditional Edwardian Terrace,' says Alicia aka @emeraldterrace, an Instagram home enthusiast.
'As much as the idea of separate rooms and spaces was appealing, in a small terraced house like mine, space isn't really a luxury we had so it made the most sense for us to have everything out in the open.'
'However, I've learned a lot about the art of zoning a room and adding in corners like a reading nook and bar area separates the spaces so it really does feel like a proper living room and dining room.'
6. Use every inch of space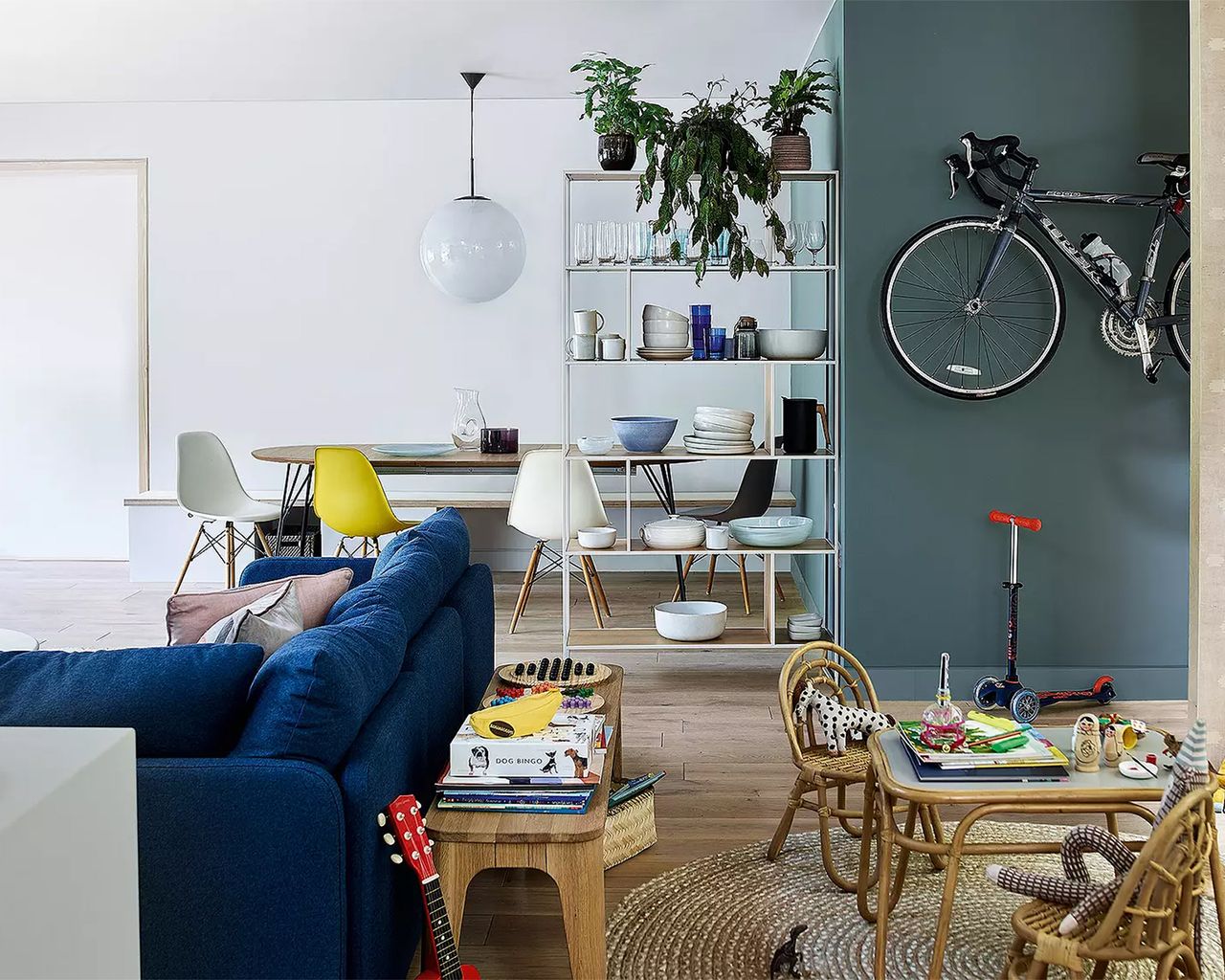 We often think about our open plan living rooms blending into our dining setups and kitchen spaces. But with the cost of childcare rising and an ever-ageing population – sectioning off a space for a playroom may be essential in your modern open plan living room.
Barbie and her brood needn't take over your Dreamhouse as her own. But it's a good opportunity to show your little one that there is a designated space for dollies and dress-up. And, a good use of dead space that would other wise remain empty.
And for the fitness fan in the house, framing a bike on the wall (instead of parking it against the wall or in a hallway) is a genius idea that means no one will trip up over cycling equipment.
7. Bring the outdoors in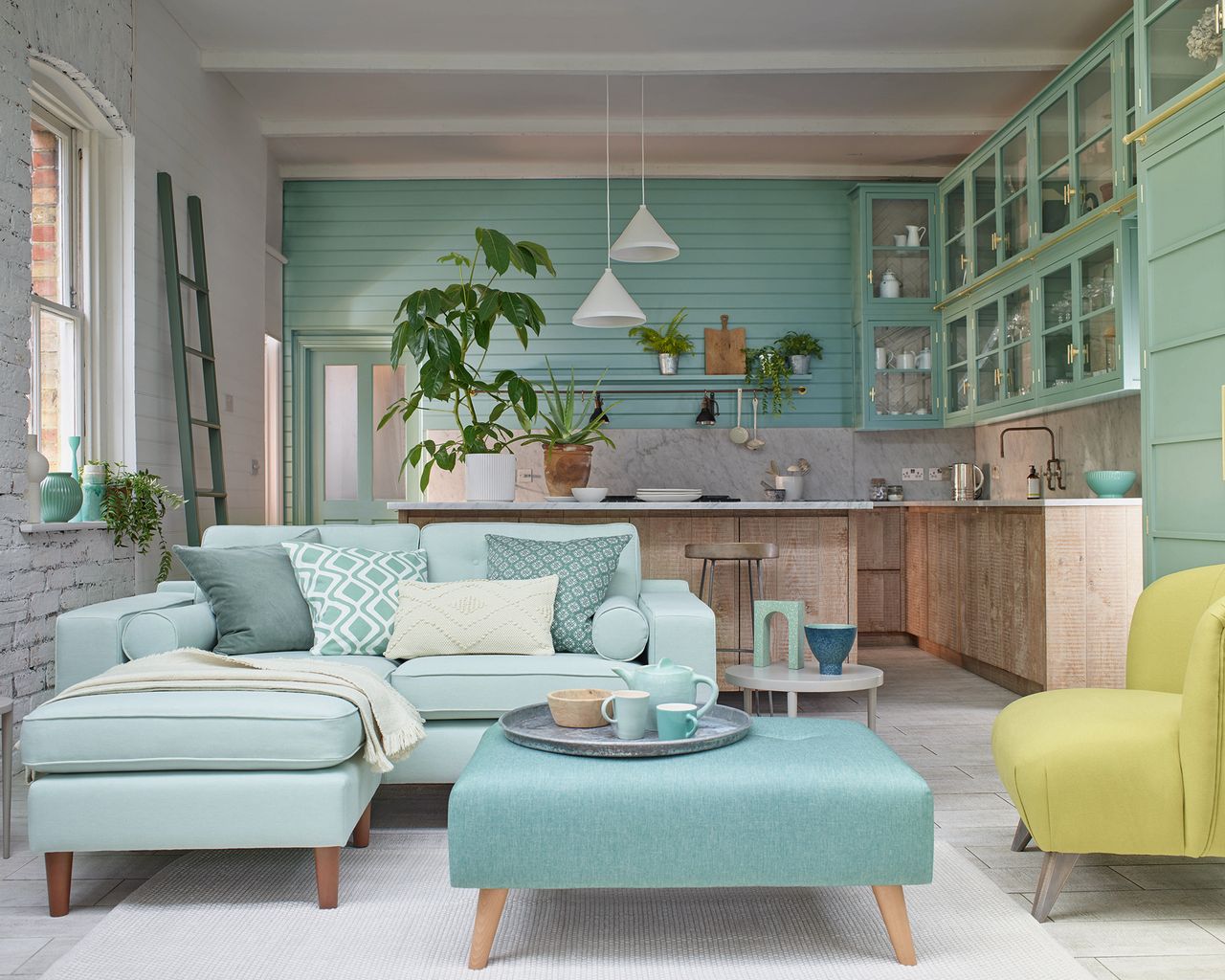 Bringing the outdoors in by adopting a biophilic scheme is always going to be a winner when it comes to open plan living rooms – for our mental and physical wellbeing. So when we saw this mint green living room – we were obsessed.
We've often seen sage and khaki take precedence in this space, but this time herby mint proves a fresh and horticulturally-inspired overhaul. Like being in your own greenhouse (plants included), there's lots of light peering through the window and open shelving. And, as a nod to our exterior spaces, exposed bright wall has been painted white to brighten up the terracotta blocks.
Special attention must be given the shiplap back walls too. A clever idea that a) doesn't cost much and b) gives us chic she-shed vibes.
8. Create a breezy coastal scheme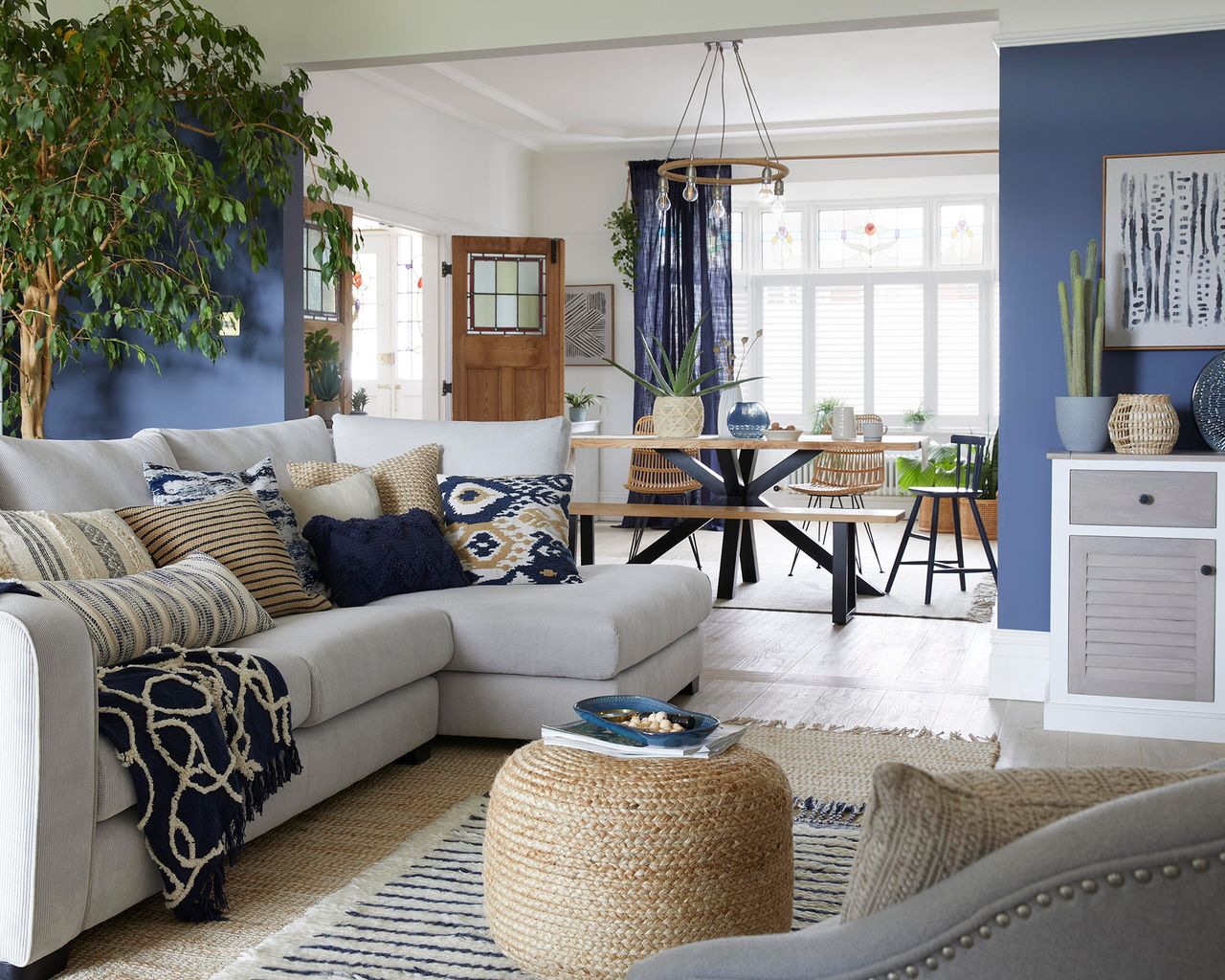 Combining two laid-back and breezy styles to create a relaxed modern look, this blue living room by Dunelm merges coastal and global influences in perfect harmony.
In this open plan living room, there's a real casual and family-friendly mood and this is connoted in the furniture choices. A jute woven footstool, rope motif throw for when things get chilly. Peek through to the kitchen and you will find a bench that's good for casual dining.
'It's important with open plan living to have carefully considered the planning of the space and for it to feel inviting. The Global Coastal trend works particularly well in an open space as it has a light and airy feel that allows light to flow through the home.' says Carolyn Foster, art director, Dunelm
9. A warm Mediterranean vibe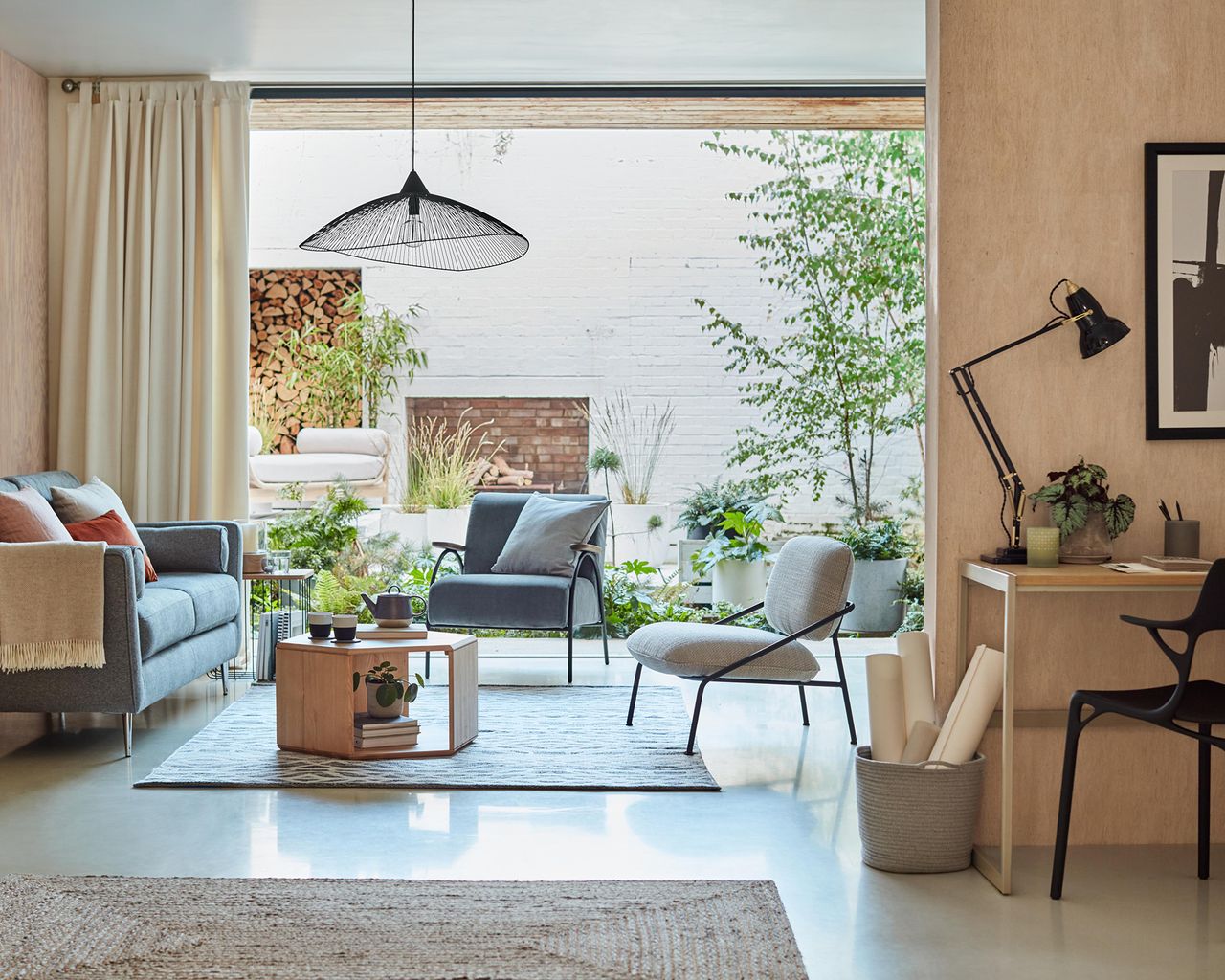 Whether or not the weather is on your side where you live, you can always fake it 'till you make it with an open plan living room idea with an exotic color palette and bi-fold sliding doors.
And, even when it's looking a little gloomy, you have two choices. You can either use a living room window treatment such as a curtain, or take grey skies in your stride – outdoor light will still shine through.
'Inspired by the design and culture of southern France, our Modern Mediterranean trend brings together natural materials alongside soft pastels and the sun-bleached hues of terracotta, plaster and pistachio. It radiates a calming, laid-back vibe that embodies creativity' says Morgan.
'The indoor/outdoor style with its relaxed holiday feel makes spaces feels inviting and sociable, places that you want to spend time in.' adds Philippa Prinsloo, partner and head of product design home, John Lewis & Partners.
10. Contrast a colorful living room with a white kitchen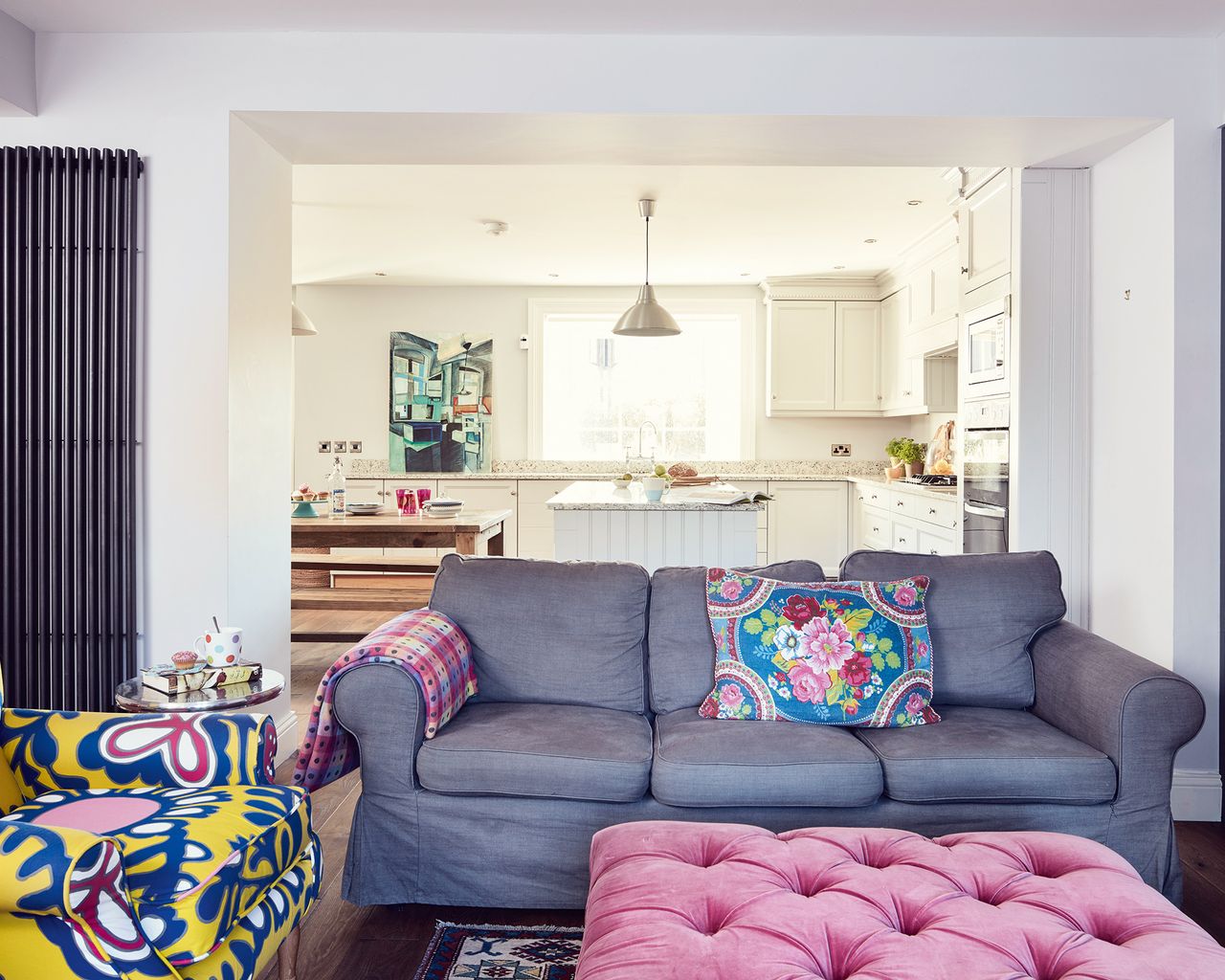 Full of energy, this living room with its pink velvet chesterfield-style table and bright yellow, pattered armchair is the perfect place for a confident color enthusiast.
However, look a little further into the background and a white kitchen is the perfect tranquil spot to take five, or for the kids to do their homework without any distractions… Except for the gorgeous smell of a home-cooked meal of course.
If you're looking for some concrete advice when deciding how to design an open plan kitchen, one simple take away is to use a bright color which will make it look like an invitingly social space.
11. Layer your lighting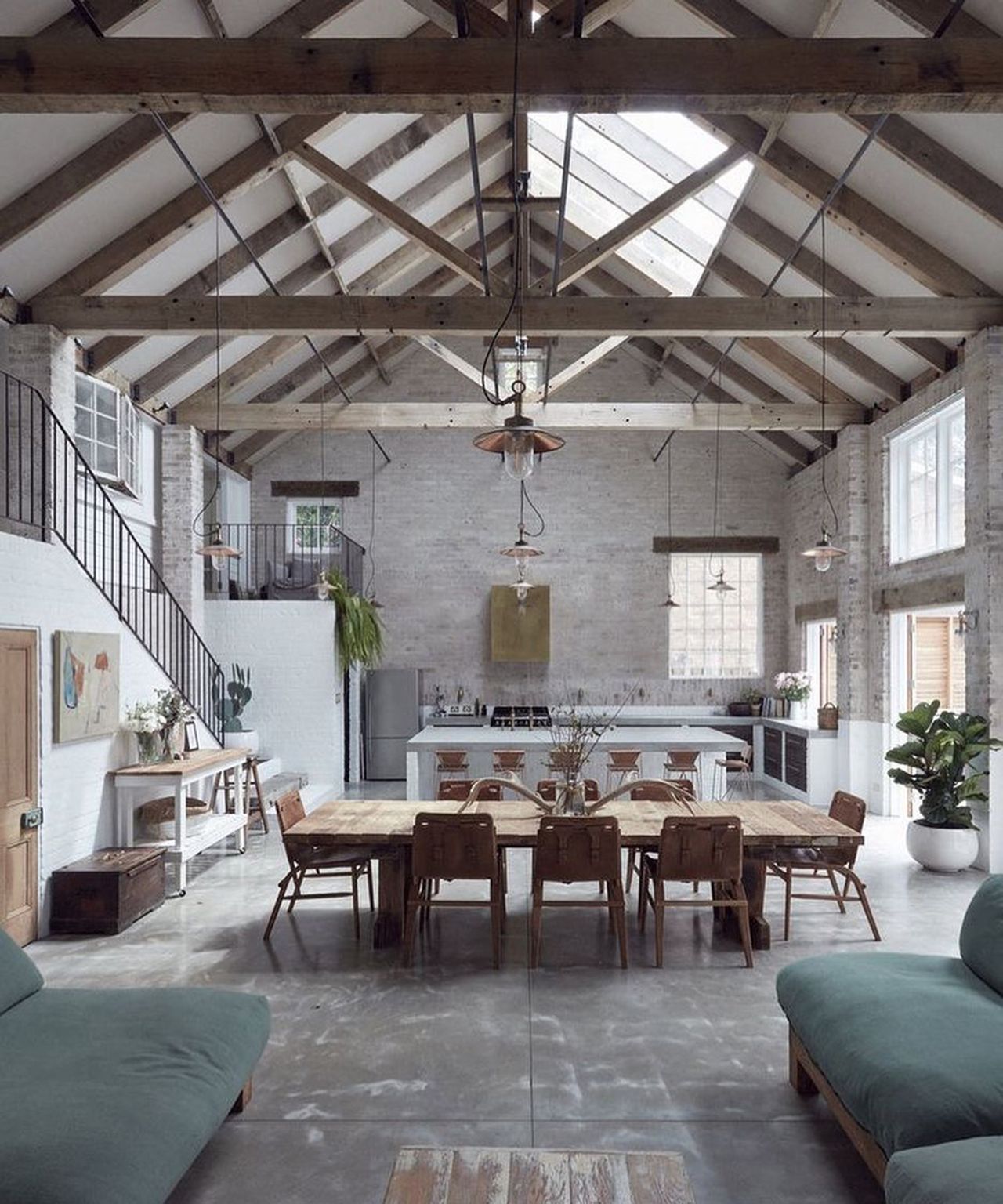 When looking at living room lighting ideas in an open plan layout, you'll want to accommodate for the size of the space you have. Bear in mind that a variety of different sources need to be taken into account including ceiling lights for general illumination purposes and perhaps a few task lights for family activities. One expert explains how to get it right in this industrial-rustic open plan living room layout idea.
'Spot the lights!' says Ruth Stolerman, interior designer.
'Pitched roofs often cause my clients concerns in regards to lighting. There are however so many ways you can go – here are just some of them.'
Pendants on a track like in this image, concealed lighting above the beams, strip lighting – this has come along a lot and doesn't just look like office lighting now! Up-lights give interesting shadows and wall lights too.'
How do you zone an open plan living room?
'Open bookcases create a sense of privacy between zones and add height to the space, while rugs also help as the change of texture gives a different atmosphere.' says Bethan Harwood, partner and home design stylist, John Lewis & Partners.
How do you style an open-plan living room?
'Good storage is key,' says Wil Law, partner and home design stylist, John Lewis & Partners.
'You just can't close the door on open-plan spaces. Rooms that were once a fusion of kitchen, dining and living have become so much more. Look for cabinets to store office essentials, open shelving units positioned next to the dining table, for easy clear-up time, side tables next to a comfortable chair and baskets for quick tidy-ups.
And Foster adds: 'Interconnected zones like kitchen and living areas, allowing you to add interest with statement pieces like large pendants over a dining table or kitchen island, large mirrors to add to the sense of space and openness. Add in other key pieces such as soft furnishings and home décor, a little interest and texture goes a long way. Use natural, neutral tones, washed out denim and different shades of blue to create the look.'
'Last, but not least, don't forget a touch of nature with house plants such as aloe vera and succulents. They are a great way to create a visual connection between different areas and help to bring the outside in.'

https://www.realhomes.com/design/open-plan-living-room-ideas