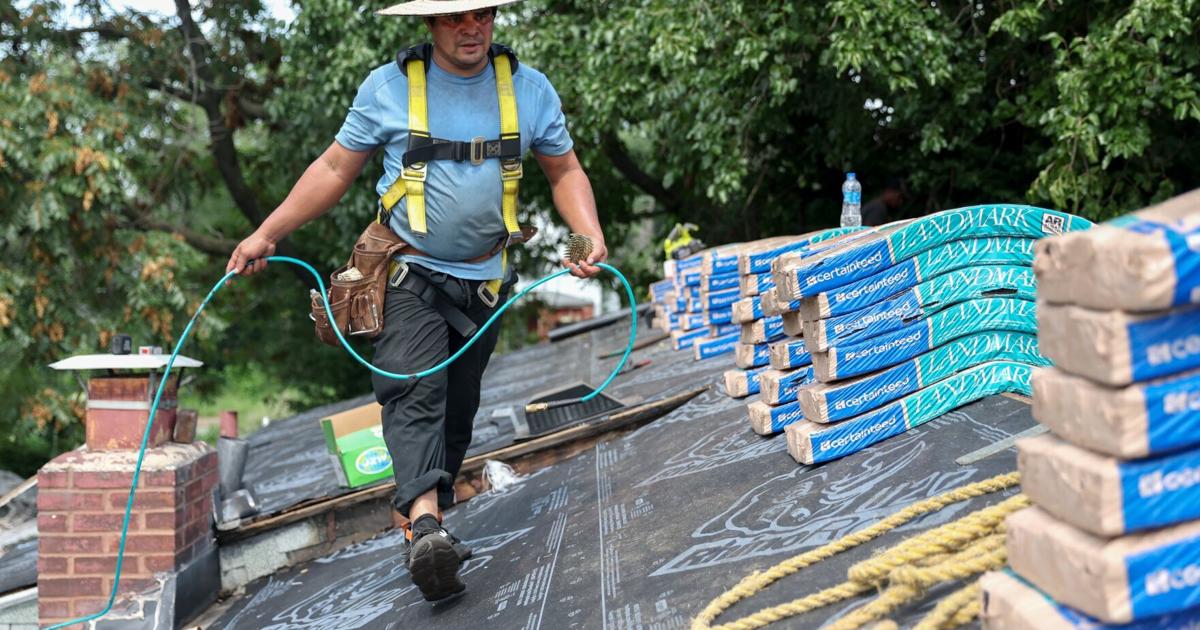 St. Louis ramps up home repair program amid 'overwhelming' need
ST. LOUIS — The front porch of Mae Frances Robinson's Walnut Park East home, where she has lived for 50 years, was falling apart.
Home values in the north St. Louis neighborhood rarely exceed $20,000, making home equity loans for repairs in many parts of north city difficult to obtain. So when the Robinson family heard about a city home repair program, they applied. And then they waited. Months.
But the wait was worth it, said Robinson's son, Kevin Robinson.
The Healthy Home Repair Program, which the city administers in partnership with nonprofit Mission: St. Louis, ended up putting some $50,000 into the home on Wren Avenue, well above its appraised value. In addition to the front porch, the program repaired the back porch, installed a new roof, redid the electric and is paying to fix the water service line.
"It's in really good shape," said Kevin Robinson, who grew up in the house and regularly drives in from Florissant to check on his 89-year-old mom. "Our plan is to keep it in the family — that's what she wanted — for another 50 years."
The Robinson's house is one of more than 200 on which the St. Louis Community Development Administration has financed repairs this year, already exceeding the total it repaired during all of 2022.
Armed with $15 million in extra American Rescue Plan Act money aldermen appropriated to home repair in 2021, the CDA has been working to ramp up a program for lower-income residents that has long been in high demand but historically funded by a dwindling amount of federal dollars. It also plans to award another $5 million in federal money to nonprofits and contractors for home repair services.
Yet despite the infusion of funds, new staff and efficiencies that Nahuel Fefer, Mayor Tishaura O. Jones' CDA director, has instituted to speed up city processing of repair projects, St. Louis' major home repair program is only scratching the surface. CDA has reduced by hundreds a wait list that has consistently included more than 1,000 people, but as of earlier this month, there were still 900 or so homes on it.
"Our wait list is always growing," Fefer said in an interview. "The need is overwhelming."
More people are beginning to recognize that. Local nonprofits that use philanthropy and other grants to fund home repairs are organizing to better advocate for funding and awareness. Policymakers are getting behind the programs. Academics are studying the issue.
"It doesn't get enough attention," said Todd Swanstrom, a professor of public policy at the University of Missouri-St. Louis who recently led a study on St. Louis' home repair needs. "I think a justification can be made for investing in this. The return to society far outweighs the cost."
He and other home repair program advocates tick off a litany of external benefits: neighborhood and historic preservation, reduced health care costs, lower utility bills, generational wealth building, maintenance of affordable housing stock and increases to property values and the tax base. Plus, the quality of life and health benefits to individuals who live in dangerous conditions with leaky roofs, crumbling floors or unsafe electrical systems are enormous, they add.
"It's essential to preserving the fabric of our neighborhoods," Fefer said. "It's essential to serving the community and preventing displacement."
The need is high in St. Louis, an old city where the average home's age is pushing 100.
St. Louis residents over the age of 60 need an estimated $300 million in home repairs — an average of $13,000 per home, the UMSL study found. And that's just for issues homeowners knew about and could report in a survey, Swanstrom noted, and doesn't include younger homeowners, rental properties or those living beyond the city limits.
Meanwhile, nonprofit home repair providers recently resurrected their own advocacy group, the Home Repair Network. While still informal, organizers hope it will provide a unified voice for local policies and funding for their work. The need for home repair services, often hidden inside a home that appears intact from the outside, is already gaining traction with policymakers, said Elaine Powers, executive director of home repair provider Rebuilding Together St. Louis.
"Housing stock is aging, people are aging," Powers said. "The need is becoming apparent outside the circle of people that work in this space."
Home repair programs dovetail with a policy long championed by Green: affordable housing.
"The best affordable housing is the house you already have," said Yusuf Daneshyar, Green's communications chief.
'Once-in-a-lifetime'
Fefer and his staff at CDA have spent the last 18 months trying to expand the city's publicly funded home repair program and get the extra $15 million into the community.
CDA has added staff and waived some inspections that were required by federal block grants. Inspectors for the program only look at needed repairs and won't cite homeowners for other code violations. Fefer said the repairs funded with pandemic aid have dropped requirements for a five-year deed restriction meant to ensure the homeowner remains in the house. The requirement scared off some homeowners, added an extra regulatory hurdle and was never enforced anyway, Fefer said.
The changes have produced results. This year, the city's major home repair program has already repaired 232 homes, compared to 155 homes in total last year. The program has spent over $2.4 million in repair work, compared to $2 million in all of last year. CDA expects to fund repairs to more than 300 homes by the end of 2023, a 50% increase from last year.
Despite the improvements, the program is still facing constraints.
"We've had trouble with the construction market, as hot as it's been, recruiting contractors into the program," Fefer said. "Historically, the constraint has been resources, but that's created an ecosystem starved of resources that's struggled to absorb this once-in-a-lifetime inflow of funds."
The city payment system has been slow, too, though CDA is working on a new, faster system.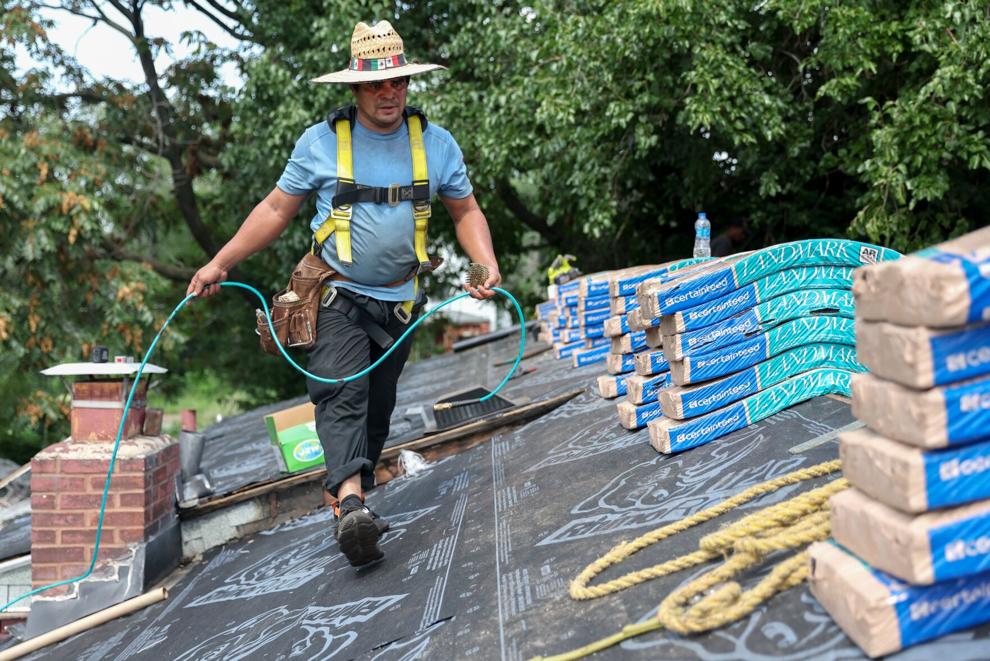 That hasn't deterred Phillip Coleman, whose PC Roofing and Construction LLC has been a contractor with the city home repair program for over 15 years. He installs about three roofs a month, all funded through the city's home repair program.
"There's never any shortage of work," Coleman said. "I like to be able to put roofs on people's homes that can't afford it."
CDA has managed to recruit about 15 new contractors into the program this year, bringing the total number participating to 69. And the agency is on track, Fefer said, to use its remaining $10 million in pandemic aid money by the 2026 deadline.
"We are confident we will be able to spend these funds down fully by 2026 and, frankly, are beginning to have conversations about how we identify additional funds," Fefer said.
Other cities are looking at dedicated local funding streams to finance home repair programs, Swanstrom said. Before the pandemic aid runs out, St. Louis probably should, too.
"We need some sort of steady source of revenue," he said. "Cities around the country are bonding up to finance home repair and are doing well. I think it's a fiscal winner for the city."